In last week's blog I resolved (the most appropriate word considering what date it was) to be better at writing my regular blog, 2022 having been fairly poor.  So, 2 weeks in I can say I am doing better. One resolution fulfilled at least!
This week's blog however, won't be especially long, and I am afraid there aren't many pictures to share as what we have been doing hasn't been photogenic.
David and I are now at Kergudon alone.  David's Dad returned to the UK last Thursday and our friends, who arrived on New Year's Eve, left us yesterday.  It was lovely to see them back at Kergudon and we were very lucky this year as they hosted an amazing curry night in Granary. Helen and Steve, who were 2 of the group, being very talented curry chefs.  Our thanks again to them both.
While Twelfth Night was last Thursday, I haven't made any progress taking down the Christmas decorations.  With guests still with us until yesterday I couldn't take them down in that gîte and, as there are now quite a lot, it is easier to get all the packing boxes out of the storeroom and into the games room to sort things.  With guests here we keep the games room available to use so I couldn't do this and knew that I would be able to start when they'd left.  I never really look forward to doing it, not because it is a chore taking them down but because the house always looks so bare for the first few days after it's done.
The last week here has actually been pretty damp (by which I mean really wet!) so my principal task was indoors and that, as ever, took longer than it should – updating all the information on the advertising agencies we use.
While we much prefer our guests to deal directly with us (when they pay less for the accommodation as we don't have to factor in agency commissions), some of the agencies are a 'necessary evil' for the visibility.  The way most of their websites work are the more often we, as the property owners, go in and change something, the higher on their listings we appear.  We don't do that anywhere near as often as we should.
They also all have totally different ways by which we update our pricing and availability and some are easier than others!  A couple of the larger ones also try to be all things to all people and advertise every different type of accommodation and expect us all to provide the same information even when it is not relevant to us as self-catering cottages.
I will also be honest here. The agency we and, having joined lots of forums for accommodation owners, most other gîte owners dislike using is one which is American owned, although Amsterdam based, and has Idris Elba in their adverts.  Yeah, does that help?!  Hate is a strong word – but we hate using them and have never, and will never, use them for our own travelling!
Updating the agencies we are with took the best part of 3 days and pretty much all of my patience!  It is now done but I do need to remember to go into them more often and just change a couple of things about to help us up the rankings.
The reason for this week's title is that, as last year, we have managed to have a second mini-Christmas.  Last year David's Dad was supposed to be with us for Christmas itself, but you may recall that travel between the UK and France was suspended at the last minute for COVID reasons.  So, when Roger was able to come in April we had a second 'Christmas Day'.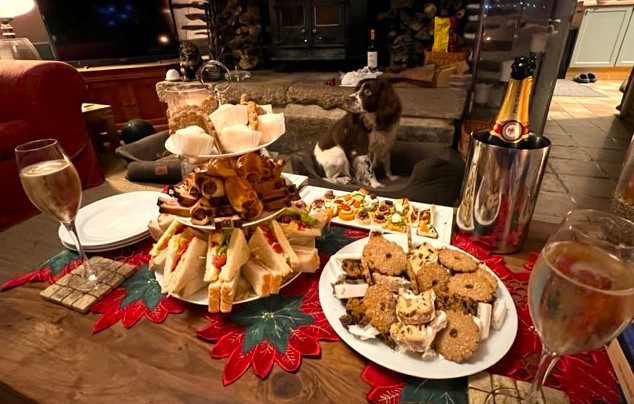 This year Roger was able to stay with us for Christmas and we had a lovely Christmas and New Year together.  Generally we were able to follow our normal 'traditions' which included our New Year's Day High Tea.  This is one we particularly enjoy and we started the first year we were in Kergudon as a means to eat up lots of the lovely Christmas foods we still had in the fridge.  It has however, sort of taken on a life of its own and we now buy additional food specifically for the high tea – kind of defeats the original object!!
There were however, a couple of small traditions that David and I enjoy that we were unable to do. One of these is having a lazy Christmas morning in bed opening our stocking presents (to be honest, all of the gifts we buy for each other go in our stockings so it's all of them!) As such, we hadn't yet opened any of the gifts we'd bought each other.
This morning, we pretended it was Christmas morning again and, with something suitably bubbly, we opened our gifts! Normally, we would then have a Christmas walk, which we did achieve with Roger as the weather was rather better then than today!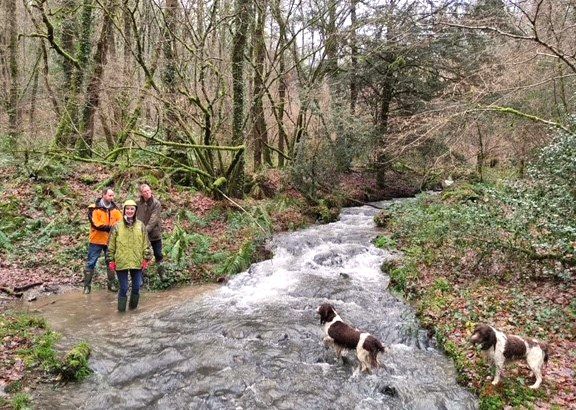 Yesterday we also had a lovely lazy day off as some friends who live close by, near the village of Lopérec, invited us for lunch and a walk through the forest along a river, La Douffine.  Normally, a gentle lazy stream La Douffine, and all its tributaries, were more of a racing torrent with all the rain have had recently.
A slow start then to 2023 (not ideal when there are so many projects to be achieved!) but, as they are all pretty much weather dependent at this time of year, we hope to have a break in the current conditions – sadly the forecast isn't looking promising and we appear to be paying for the dry summer we enjoyed. At least the garden will benefit!
I will do something next week, and I will let you know what it is, I hope at least some of it will be outside!
Kenavo.