Last Sunday's blog said that my focus for this week would be more decorating to ensure that all our Christmas guests have a magical time – and that is pretty much all I've been doing and I'm still not finished!
In previous years, we have watched some of the television programmes when UK stately homes prepare for Christmas and put up their decorations and light trails through the grounds.
With all 4 gîtes to be decorated, as well as our new exterior decorations we showed last week, Christmas at Kergudon has, at times, felt similar to Christmas at Chatsworth / Blenheim Palace / Highclere / insert name of stately home here – just without the armies of people and vast budgets!
As we had guests arrive in Priory yesterday, the priority was getting that gîte completed first.  Every year we have tried to add something new to the decoration so that the amazing and dramatic space that the gîte is, is suitably festive.
Last year we bought and decorated a 3 metre tree which looked amazing – but we could still have a larger one as I was concerned that the tree couldn't be seen by guests enjoying their morning coffee in the four-poster bed on the mezzanine (or their late night liqueur / digestif / cocoa as appropriate)!
The problem with buying a taller tree was that anything taller was also much wider at the base and, while we have the height, we don't have as much space at the bottom for anything wider. David had the idea to but a second 3 metre tree and, as they come in sections, add some additional bits to increase the height but retain the width. So we did!
This year, and the reason we needed a few more decorations and more time, we now have a 4½ metre tree in Priory and it looks fantastic.  Sadly, I'm not sure the photos do it justice as it looks so much better 'in the flesh' and it certainly pleased our guests who arrived last night.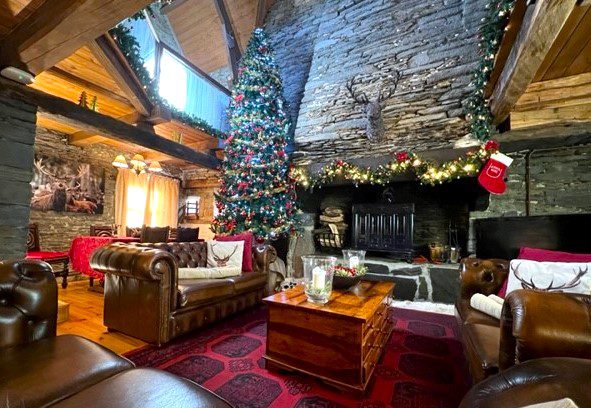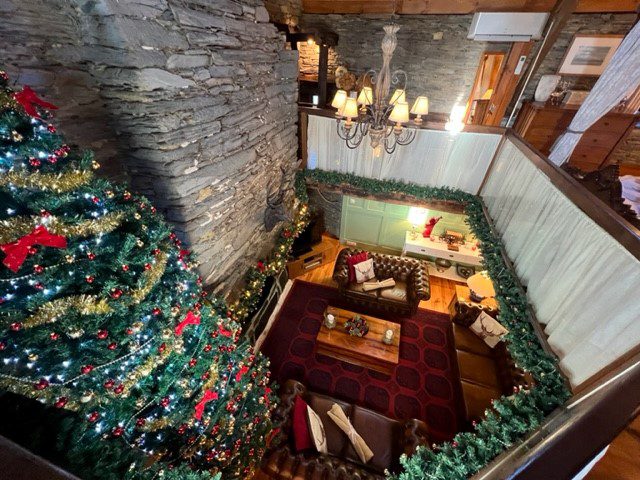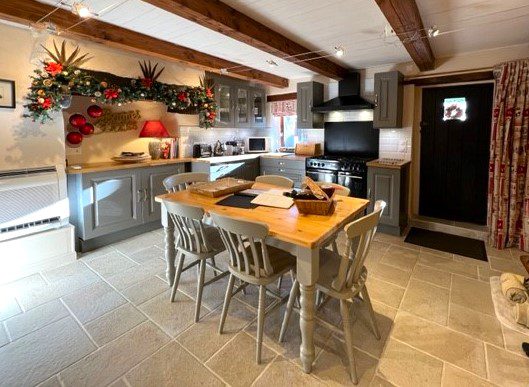 With Granary also occupied for Christmas this year, we wanted to make sure that was suitably festive too and we hope we've achieved it.
As previous years there is a tree, although I think more beautiful this time; and garlands over the fireplaces on the ground and first floor.  This year though we have also added a garland in the arch between the kitchen and dining area which looks really good – but I think next year will need more lights and small baubles!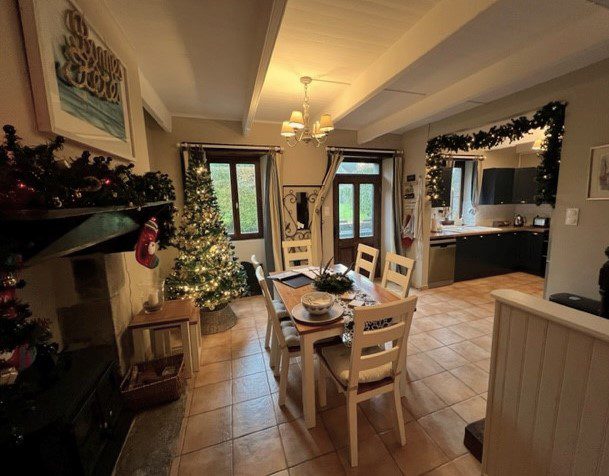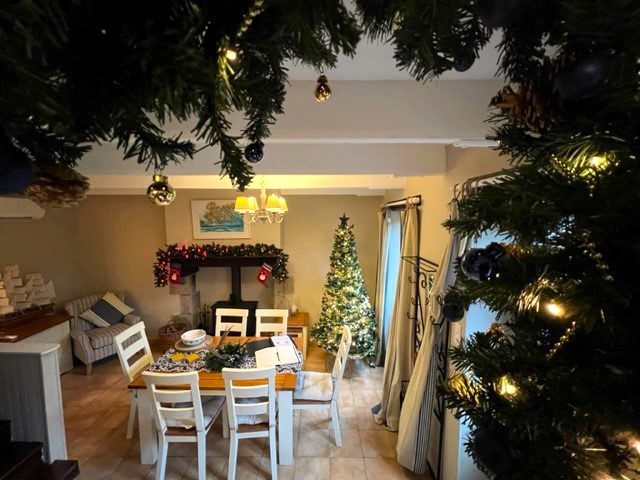 I have also finished the decorations in Hayloft – which look lovely – but, as the gîte itself isn't made up (we will finish tomorrow) I haven't taken any photos yet.
Last week's blog also said that I had started with the decorations in our own home but they weren't finished so I didn't share pictures then. As our house is the HQ for everything we do in the gîtes, while the decorations are complete, there are so many boxes and things that need to be put away when everything is done I haven't taken any here either.
While decorating has taken up 90% of my time, we did get to one Christmas Fair this week – just to say that we had been to one.  This was the fair dedicated to artisanal produce, both local, regional and from further afield, held in Pleyben.  Last year it seemed larger, and was held in a larger space, and was where we found the crafter who made the lampshades for us for Hayloft.  She was back this year too and remembered us, and liked the photos we showed her of the shades in the gîte.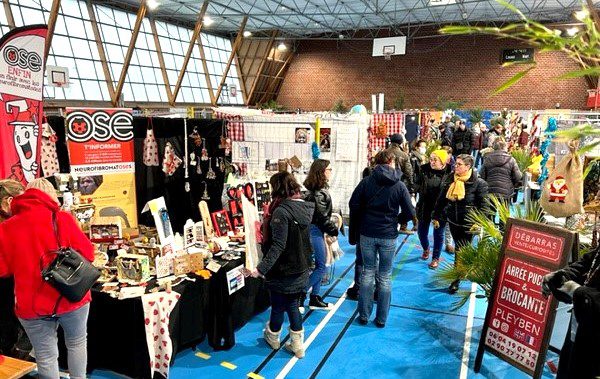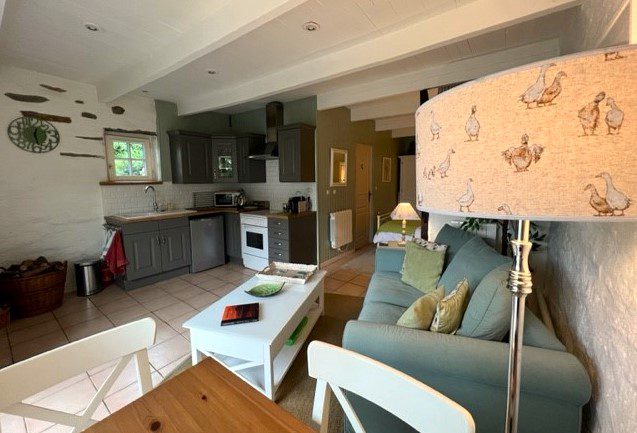 Next Sunday is the 'big' day, for us Brits at least as most Europeans focus their celebrations on 24th, so I suspect I won't have the time to write a blog or that you will have the time to read it!  A week on Sunday is then New Year's Day when I hope to write something and probably do my traditional round-up of the year.
I will however share some pictures of Hayloft and Stable when decorated in the next couple of days on our Facebook page.
Right now, I will let you enjoy this World Cup final which has become much closer than it looked as though it would have been in the first 79 minutes! I'm not sure who to support. Obviously, living here, France would be an option but, having been in Buenos Aires for the first week of the tournament, I've got a soft spot for Argentina and would have loved to still be there now to experience the atmosphere.
Salut.