A couple of weeks have passed since my last blog, and, from the list of possible reasons when I don't write, this time we have been away – again, I hear you howl!
I know it has only been a couple of weeks since we had our BIG adventure in Argentina, but, obviously, we don't take our holidays in the summer, as we hope to be extremely busy here, so we do so in the quiet times of year, generally late autumn and early spring.
In my last blog I showed that Saint Cadou had had a pretty dusting of snow, which we don't get every year.  However, for our latest travels we went somewhere that we hoped would have lots of snow, and we joined some friends in the French Alps for a week skiing.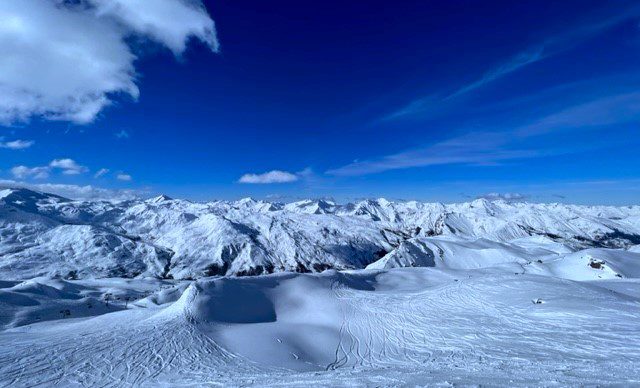 David and I have always enjoyed skiing, although the only time we have done so together was 2 weeks after we initially moved into Kergudon and we immediately left again for a week in Canada.
Our week skiing was amazing and, while many resorts have experienced far less snow this winter than normal, we were almost as high as you could get and the conditions were perfect.  We're a bit torn however – we want the ski resorts to stay open so perhaps we can do it again, but if they suffer from a lack of snow in the future perhaps we will see an uptick in winter holidays in Brittany!!
Having been skiing we were invited to stay for a few days with some extremely good friends who live in Switzerland.  We first met these friends when they came as guests to stay in Hayloft and have been back many times since.  Be warned – if you come and stay with us and like us you may not get rid of us!!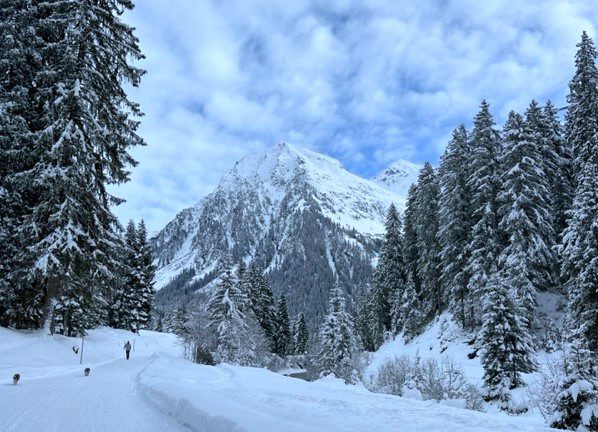 As they live in Switzerland, we hadn't stayed with these friends before but, as we were already in the Alps, it was an easier journey to make.  It also allowed us to stay a few nights in Como between visits which we really enjoyed.  While the dogs didn't necessarily enjoy the 3000 km road trip, they evidently love running in the snow – although their fur does seem to attract snow to create snow baubles!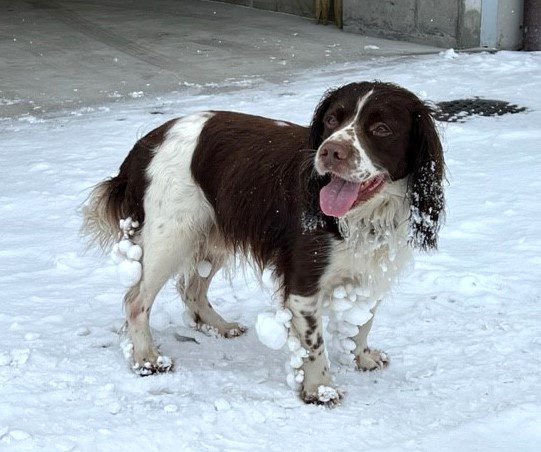 We have been back almost 2 weeks now, although I didn't blog last Sunday as we'd not progressed much in the preceding days and we'd settled in last Sunday afternoon to enjoy, what we consider to be, the best annual sporting tournament there is – rugby's Six Nations.
It appears that the constant rain we had experienced since New Year dried up while we were away and the last couple of weeks have been better to work outside so I have made some progress, although perhaps not as much as I should have.
I outlined what our first project would be in the last blog and I have built one of the plinths beside the steps leading to Granary's garden although I have not added the paving slabs yet.  I should be able to complete both plinths next week which will allow us to move the olive trees to their new home.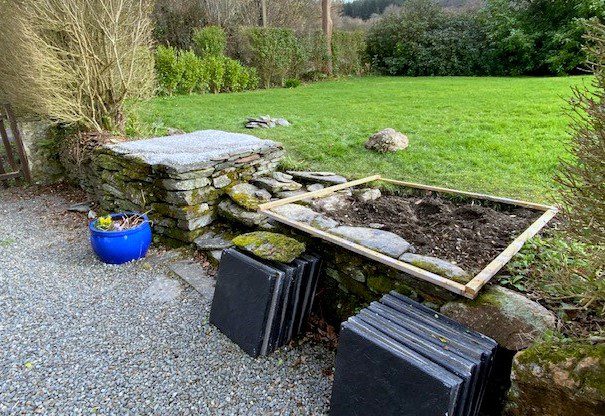 That is it for our travelling for a while, although we can't complain as we have had 2 amazing trips, but now there are no excuses for not progressing with the very long list of things that we need to do – although I'm sure I'll find some …
Kenavo.