I don't know where the last 2 weeks have gone! I didn't blog last Sunday as the weather had been so poor in the preceding week we hadn't achieved too much.
As it had continued to be wet and not very cold, everything continued to grow furiously, especially the lawns that we had scarified and applied a fertilizer to a few weeks before. With the fertilizer, the grass was lush and green and, as I hadn't been able to cut it, although only for 8 days or so, it was very long and so took longer to dry. When I did manage to cut it, it was harder work than usual and, because I decided not to collect the grass cuttings, we had what resembled more a hay field than a lawn!
Subsequent cuts and the drier weather of last week have made those piles of cut grass smaller but it has made me think that, even when wet, I need to find any opportunity of keeping on top of the grass.
In the first week, we managed a second walk with our friends as we had the previous week.  This time they recommended a circuit that started in Loqueffret (not to be confused with Loperec, Locquirec or any of the myriad of other Loc / Loq place names!) and took in the Chaos de Mardoul.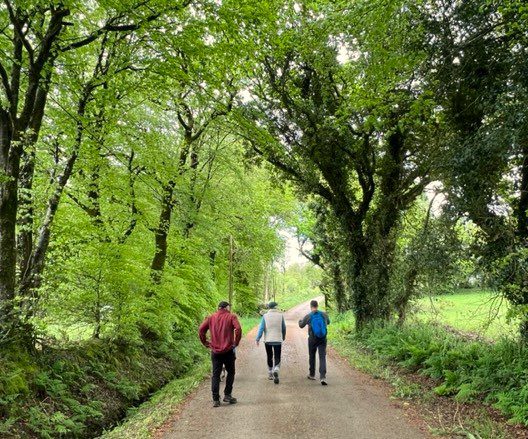 The Chaos is a stretch of the river L'Ellez with interesting rock formations and rapids.  It is a popular spot to visit and picnic in the area but we hadn't visited in our 8 years living here.  Thankfully we chose a day when there weren't any people there, mostly because it was pouring with rain for some of the walk(!), but it is definitely somewhere we will return – and the walk took in more beautiful Finistère scenery.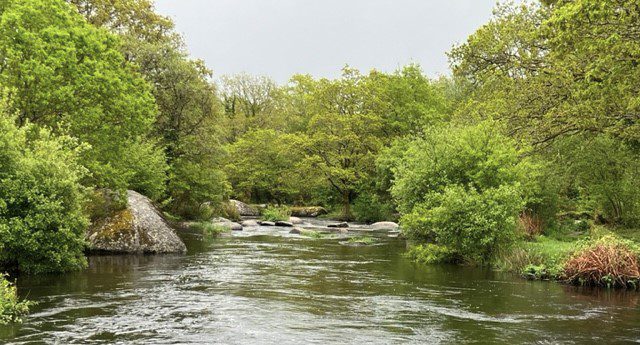 It was on the previous walk we had done with our friends that we realised Garratt had a minor problem with one of his front paws.  Garratt's front paws have always been soft and prone to getting cut.  He had also always had a small growth on the front of his right paw that the vet had previously told us not to worry about unless it got any larger.
On the previous walk, Garratt had cut his pad (again) so he walked with a boot. When we took it off it was obvious that the boot this time had rubbed this growth raw and it looked vey red and painful. We took him to the vet who agreed to remove it (and get it tested just in case) so, last Friday, he went under the knife.
We fully expected him to come back with the obligatory cone on for a couple of weeks, but not this time. The stitches look strong but he hasn't had a long walk since and won't for another week. We await the results of any test but hope with it removed he won't be affected when (and it will be when) he has to wear his boots again.
The only day in that first week when it wasn't raining we gave our house a bit a spring clean as we welcomed David's aunt and uncle, Chris and Clint, who came to stay for a week and brought some considerably better weather with them.
With Chris and Clint here we have had a fun week of eating and drinking, visiting some old favourite restaurants including the Crabbe Marteau in Brest and Auberge du Menez in Saint Rivoal, but also tried a new one (for us), the Bistro du Pont in Landerneau.  It was very good.  A few years ago we couldn't get anyone to recommend anywhere worthwhile eating out in Landerneau, now we have found 3 that we have tried and seen others we need to try.
One evening we were invited by our friend Mercedes who owns the restaurant by Lac du Drennec, Au Lac, for a cheese and wine night.  Principally, she took the opportunity of having Chris and Clint about, who know a bit about wine, to taste some new bottles that she is considering putting on her wine list.  We were all delighted to help and look forward to some, new, excellent wines being available at Au Lac in the summer.
Our activities have been focussed principally on continuing to weed the garden and get it presentable for the summer – which is made much easier when it remains dry! All of the hedges are getting to the point that they need a trim but with so many birds around it will have to wait for a few weeks.
All our efforts were put to shame however as we assisted our neighbours this afternoon for their open gardens.  These neighbours have created a fabulous garden over the last 12 years or so they have lived in Saint Cadou and we have seen it grow and mature lending a helping when required such as assisting them erect their moongate a few weeks ago.  Today, being hospitality specialists(!), we ran the refreshment stall for them as they welcomed visitors to their garden.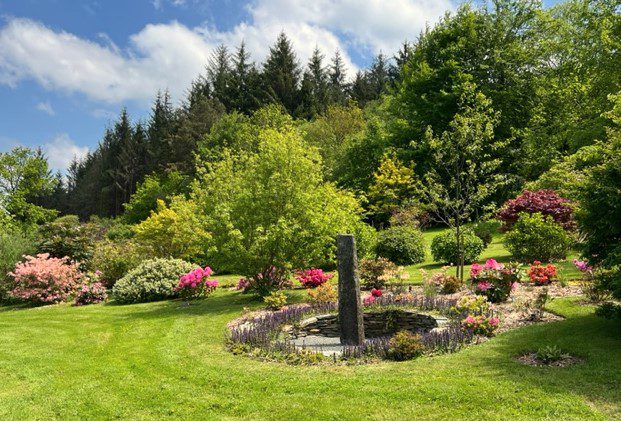 Next week should be considerably more productive than the last 2. The weather looks good, we are a little quieter in the gîtes and we have bought some additional materials we need to complete the Stable's frontage and instal a TV into the chambre d'hôte.
More to report next week.
Kenavo.