There were 2 things I wrote in last week's blog that I regret now!  The first was that we didn't get too wet on our dog walk last Sunday.  While this is technically true, last Monday I started feeling really awful; feverish, achy muscles and generally rubbish.  I didn't think that I had got too cold last Sunday, and I appreciate that being cold doesn't give you a cold, but it did knock any work that I had hoped to do for the start of last week.
The other was saying that the forecast was looking 'relatively' good for the week.  Having said that, we woke up on Monday morning to an unexpected flurry of snow.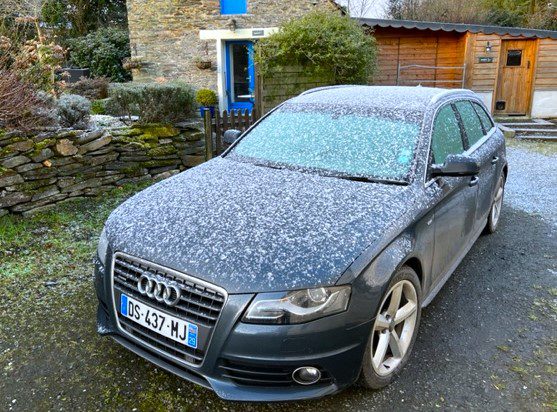 While it hasn't been terrible it has barely risen above 5 degrees at any point. This didn't help with my feeling rubbish but equally, it meant that when I was feeling better I couldn't do anything involving cement as it wouldn't have set effectively.
Until I had got back to fighting fit, I focussed on a computer-based project inside. When better, I took down the exterior Christmas lights across the front of the building (we wanted to do that when they were dry) and having taken 2 days to put up they only took a few hours to take down!
Towards the end of the week, while it was dry, I got the grass cut for the first time this year. It looks so much better for it but I had hoped to get a second cut done, the first being reducing it from too long to manageable! Hopefully I will be able to do so before the rain arrives.
As such there aren't any pictures of things we have progressed. However, we have decided to invest in a few things that we'd like to share.
When we were away recently with friends some of the most fun times we had with them was at meal times. Food has always been a way to bring people together and, making the right sort of food can be a really fun activity.
In the Alps, we had raclette on a couple of nights which is always a communal event. While, it originates in the Alpine region, and Switzerland in particular it is also widely enjoyed throughout France – I had it in the Oise region (NE of Paris) when I was a teenager on French exchange – and we have had a couple of families bring their own raclette set with them.
Another Alpine-originated communal dish, that we had with our friends in Switzerland but is also enjoyed throughout France, is fondue.
We have decided to buy a raclette and fondue set for guests to borrow and use in the gîtes.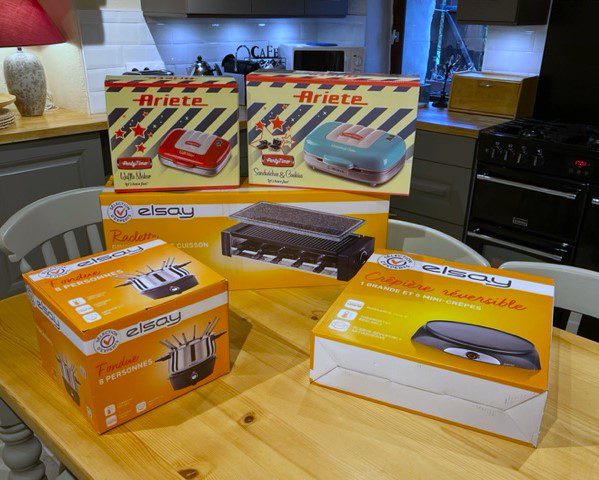 Having bought those, we then thought that there are other things we could get which could make for fun activities for families staying here. One, which also introduces something more 'Breton' than the Alpine cheese-based meals, is a crêpe plate, surely there isn't a food much more associated with Brittany than crêpes?  Then we thought of waffles and donuts – just because they're delicious and can be fun made together as a family.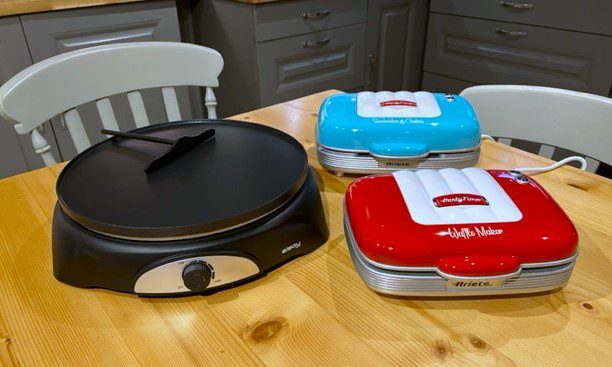 We will have to make use of some of these in the next few months – just to make sure they work properly you understand!
Today we did another of our dog walks and headed to the coast, on the south side of the Crozon peninsular.  The bay to the south of the peninsular, the Bay of Douarnenez, has many amazing beaches all around and we started at one in Telgruc-sur-Mer.  Our 15 kms circuit took us along the coast past some fabulous little sandy coves which we will definitely return to in the summer, to the huge Plage de l'Aber, the first beach Dave and I visited together in France. On the route there were some amazing panoramic views all the way from Plage de Lestrevet to Aber.

The circuit took us past an old lime kiln in Rozan, then inland through the cow pastures back to Telgruc.  It was a really good walk that we would recommend for those who want a slightly longer route – but it was a bit up and down in places do not one to do in extreme heat!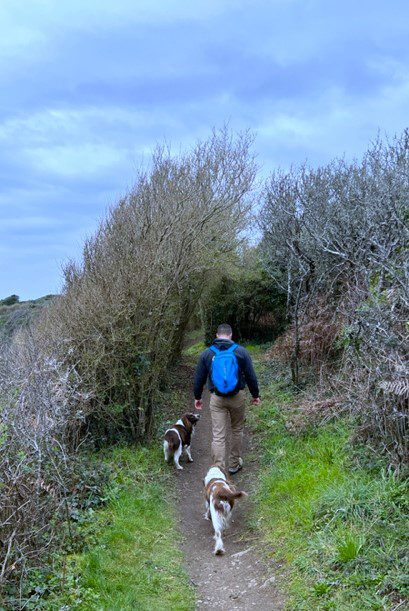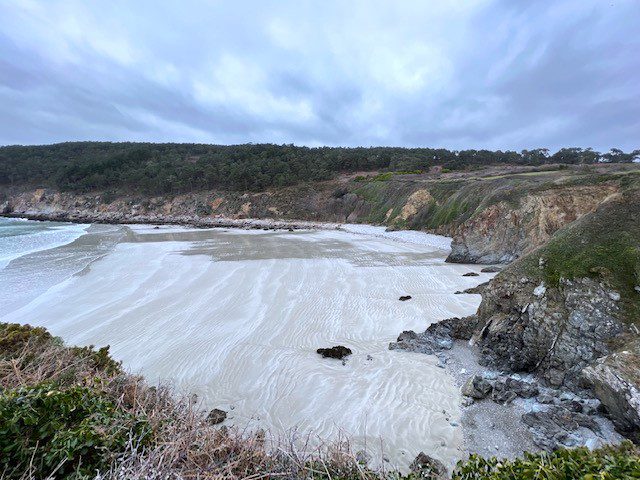 I am reluctant to state what the forecast is predicting at the minute as it may change, other than to say, if it is accurate it may be a week of work under cover!
Salut.