Apologies for not writing a blog last week.  The previous week, I said that if the forecast turned out to be accurate, it would mean my work would need to be undercover.  Surprisingly(!), the forecast was spot on and the last 2 weeks have been mostly wet and grotty.  Not great news for our guests.
A few weeks ago, I mentioned that Meteo France (the French equivalent of the Met Office) said the country had experienced its driest winter on record.  This was likely to exacerbate the problems with low levels of ground water after the record-breaking periods of drought last year.  Many communes in France are already under some sort of water restriction – preventing its use for gardening, car washing etc rather than lack of drinking water (yet) – and more are likely to be impacted in the summer.
However, we can barely recall a spring which has been wetter and has prevented us from getting on with the projects we want to do. By wetter, we mean more the number of days with drizzle and generally miserable 'being outside' weather as we do understand that, while the days have been poor, even Finistère has only had about 50% of the volume of rain it would expect.
As such, you can see where this is going, we haven't made great progress where we would have liked. Despite it being wet it has at least become milder so things are starting to grow madly and we hope we won't get another frost.
This has allowed me to cut the large number of hydrangeas we have in the orchard, alongside where we felled the large sycamore trees in 2019.  We are now happy with how these are looking and the shape they are taking, but it has taken us a few years to get here and they have benefitted hugely from the additional light now the sycamores are no longer there.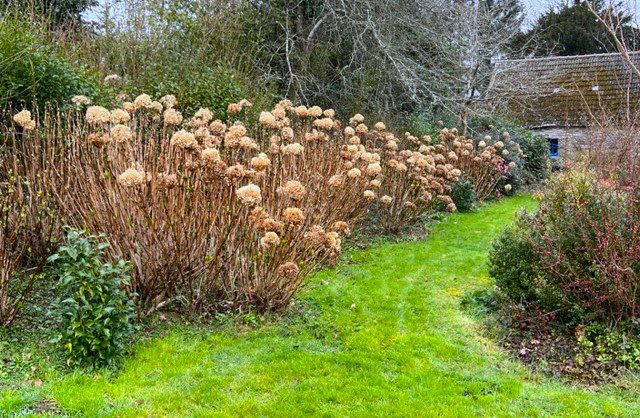 I am not the biggest fan of mophead hydrangeas, although they do like the conditions we have here with damp, acidic soil and grow very well. I have tried to break up the bank of them with other plants, generally rhododendrons, camelias and non-mophead hydrangeas (which also prefer acidic soil), so as to have a better mix leaf and flower colour throughout the year.
One problem is that the well-established hydrangeas grow extremely large in a single season and, unless cut back, tend to swamp the younger plants.  We are getting there and, when I manage to trim the hedge behind them in the next few weeks, that bed will start to look pretty good.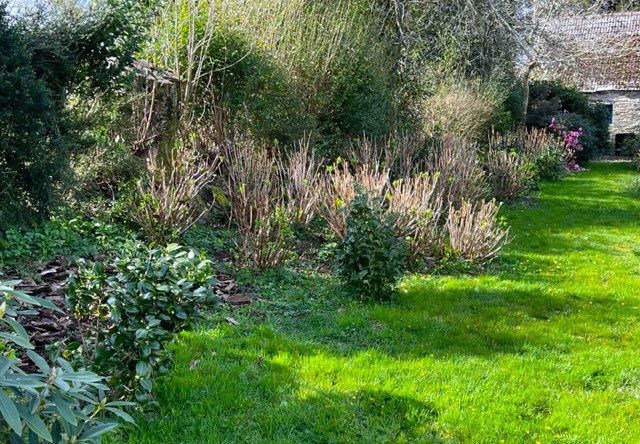 I have also managed to lay the paving slabs to the second plinth in front of Granary in preparation for moving the olive trees.  I have not yet been able to point them or clean the surfaces but we are at least now 90% of the way there.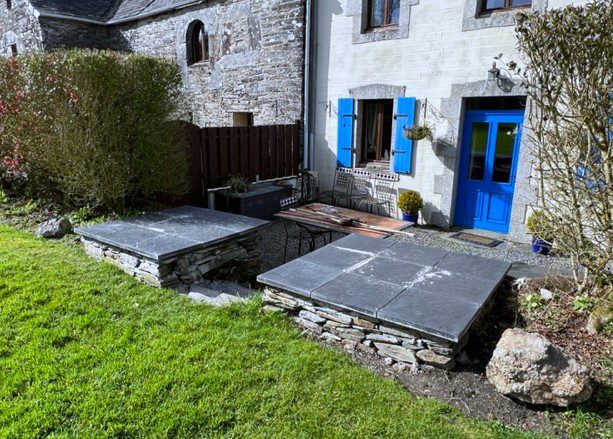 This second plinth was a little tougher as I hadn't made it quite high enough so the mortar bed was a bit thicker and, as it transpired, not quite wide enough either so the slabs overhang a little more than is ideal.  Despite all that, I think they will look good when done and do open the lawn up from the front of the gîte.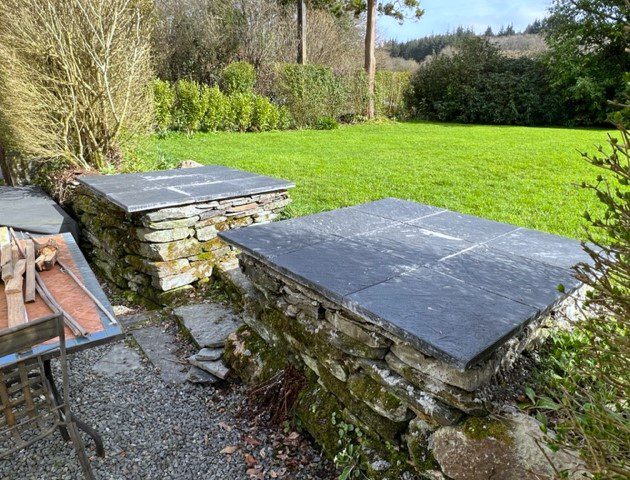 Thankfully, while the weather has been less than ideal to work outside I have had a couple of bureaucratic things to get done – this is France after all!! Although, despite my cynicism, I have found the processes to be fairly easy – so far!
One was to change the ownership of our old car which we sold. When we moved, we bought our car from the UK and went through the process of re-registering it in France in 2015. Itself, not as painful a process as we were led to believe it would be.
We loved the car and it has served us well since living here but it was time to say goodbye. Registering a change of ownership is all done online and you need to provide the new owner with a couple of pieces of paper to prove the vehicle is able to be sold and roadworthy etc, including informing ANTS (Agence Nationale des Titres Sécurisés) of the change of ownership. ANTS create a code for the new owner to allow them to request a registration document in their name. All seemed to be very smooth and I was pretty impressed with the process.
The second, and the one that will inevitably take longer, is exchanging my UK driving licence for a French one. In the chaos that was Brexit we heard all sorts of horror stories about what was required, how long it was taking and even the improbable suggestion that UK drivers would have to take a French driving test (I know what you're thinking if you've ever driven in France, but yes, apparently the French do have to pass a test to drive!)
Many of these stories seemed to be because no one actually knew what was involved and all the Brits living in France panicked (or at least those prone to panic), submitted the paperwork to exchange and was surprised that the French system was overwhelmed and couldn't cope! To be fair this was partly because while previously all exchanges were done at the departmental prefecture level, now everything is done centrally via ANTS.
Thankfully, in the years since 2016, the French and UK governments have come up with specific guidance and there is an excellent Facebook group dedicated for just this sort of thing run by someone who is extremely knowledgeable, not to mention friendly and helpful, who has summarised the entire process and written in simple terms what documents are required and what to do.
I need to change my licence now as my UK photocard expires in 6 months so I meet the criteria for change. Again, everything is done online, you add all the relevant information, upload the documents required and have your photo taken in a booth suitably enabled to send your (inevitably gaunt, prison mugshot-like) image to ANTS.
On submission, I received the standard 'this process currently takes between 6 and 8 months' message (makes the UK Passport office look efficient!) but at least it was accepted (for now) and, unless I am asked to submit anything else (I'm not expecting to), I understand I should have my new licence before my old card expires.
Despite, having mentioned the weather has been poor, it did break today for us to have our weekly walk. In fact we have had almost the perfect weekend – for us.
On Friday evening we went to a bar we hadn't been to before but had heard great things about.  It is in a village called Plouyé, just beyond Huelgoat.  Driving through Plouyé you could get the impression that it, like so many French rural villages, has been deserted, but it manages to support 3 bars!  We went to Ty Eglise a Welsh bar with some friends including a couple who split their time 70/30 between France and the UK, and who have just come back for the summer.  A great little find and recommended.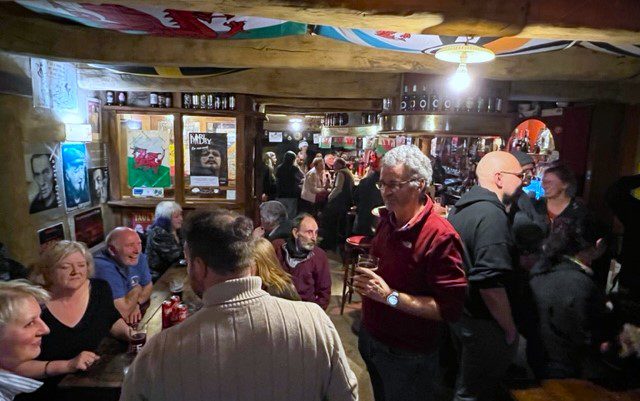 Yesterday we settled down in front of the fire for Six Nations Super Saturday, when the tournament concludes with 3 matches played on the same day (I may have mentioned we enjoy watching the Six Nations) with the added bonus of an F1 Grand Prix too.
Today we walked somewhere we have not been before, La Forest-Landerneau and along the Élorn estuary.  The Élorn is the river that rises near us in the Monts D'Arrée and passes through Landerneau, underneath the inhabited bridge, and out to the Atlantic via the Rade de Brest.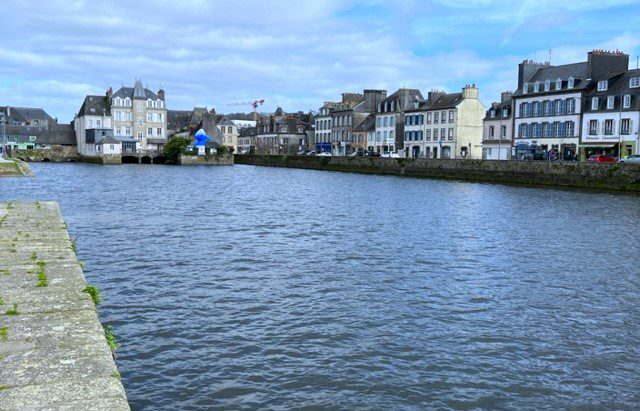 The town of La Forest-Landerneau is quiet but pretty and, amazingly, had a café that was open on a Sunday afternoon.  Win!  The walk was only 12 kms but took in the forest and parts of the estuary and was very enjoyable.  We would recommend it – and we saw the best way to use leylandii other than burning it!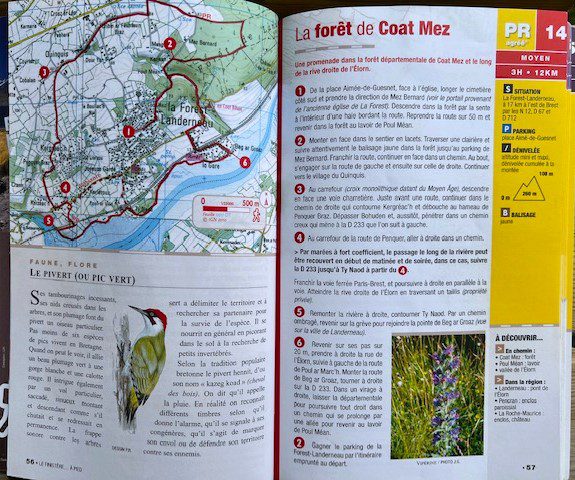 Sadly there doesn't seem to be much change in next week's forecast which is looking as iffy as last but, hopefully, the breaks between the wet bits might get a bit longer …
Kenavo.