Restaurants & where to eat during your holidays in Brittany

The best restaurants and where to eat during your holiday in Brittany.
We are lucky to have an excellent selection of restaurants and eateries both locally and a short drive from from the Gites at Kergudon.
The Restaurant Au Lac is just down the road and is one of our favourite places to eat whilst watching the sun set over the stunning Lac Du Drennec. Auberge Du Menez in the neighbouring village of St Rivoal sources only local ingredients and gives a gastronomic experience in the Monts d'Arrée. If you're looking for a touch of class La faïencerie in Daoulas is perfect for an elegant lunch or dinner with one of our favourite chefs.
Take a look below at our restaurant recommendations during your holiday in Brittany.
The best restaurants close to Kergudon

LA FAIENCERIE
This is one of our favourite restaurants. La Faïencerie is sited in the pretty town of Daoulas which is a 20 minute drive from the Gites at Kergudon. This old pottery has been lovingly renovated and is now an elegant and sophisticated eatery. Yann the head chef is very talented and his menu is full of exciting dishes using local ingredients with a modern twist. Our favourite thing to do on a Sunday morning is visit the weekly market at Daoulas and then have a leisurely lunch at La Faïencerie before a beautiful walk around the estuary or the stunning coastline.
Please check seasonal opening times.
Reservations are recommended. tel: 02 29 63 23 48

LE JARDIN DES SAVURS
The story of Le Jardin des Saveurs was born in 2018, the need to return to our roots, to a cuisine of taste and to the pleasure of working with good, local produce. A trusting team, a group spirit to move forward together and take pleasure in accompanying our customers, exchanging our local products that we pamper such as poultry from the Kergo farm or our vegetables from Forest Landerneau, just a stone's throw from the restaurant. With a creative cuisine that plays with the seasons with originality: the flavours of the garden take shape.
Reservations are mandatory and uniquely by telephone:

AUBERGE DU MENEZ
Restaurant Auberge Du Menez – For a real gastronomic treat the restaurant and bar in Saint-Rivoal (just 5 minutes by car) is an wonderful treat. The head chef of this gem and creates beautiful dishes that are a treat for your taste buds and senses. Only a short distance from our gites in Brittany, Auberge Du Menez is a must when it comes to restaurants to visit during your holidays in Brittany France.
Reservations are recommended. tel: 02 98 93 02 48
Other Local Restaurants, Cafés and Bars close to Kergudon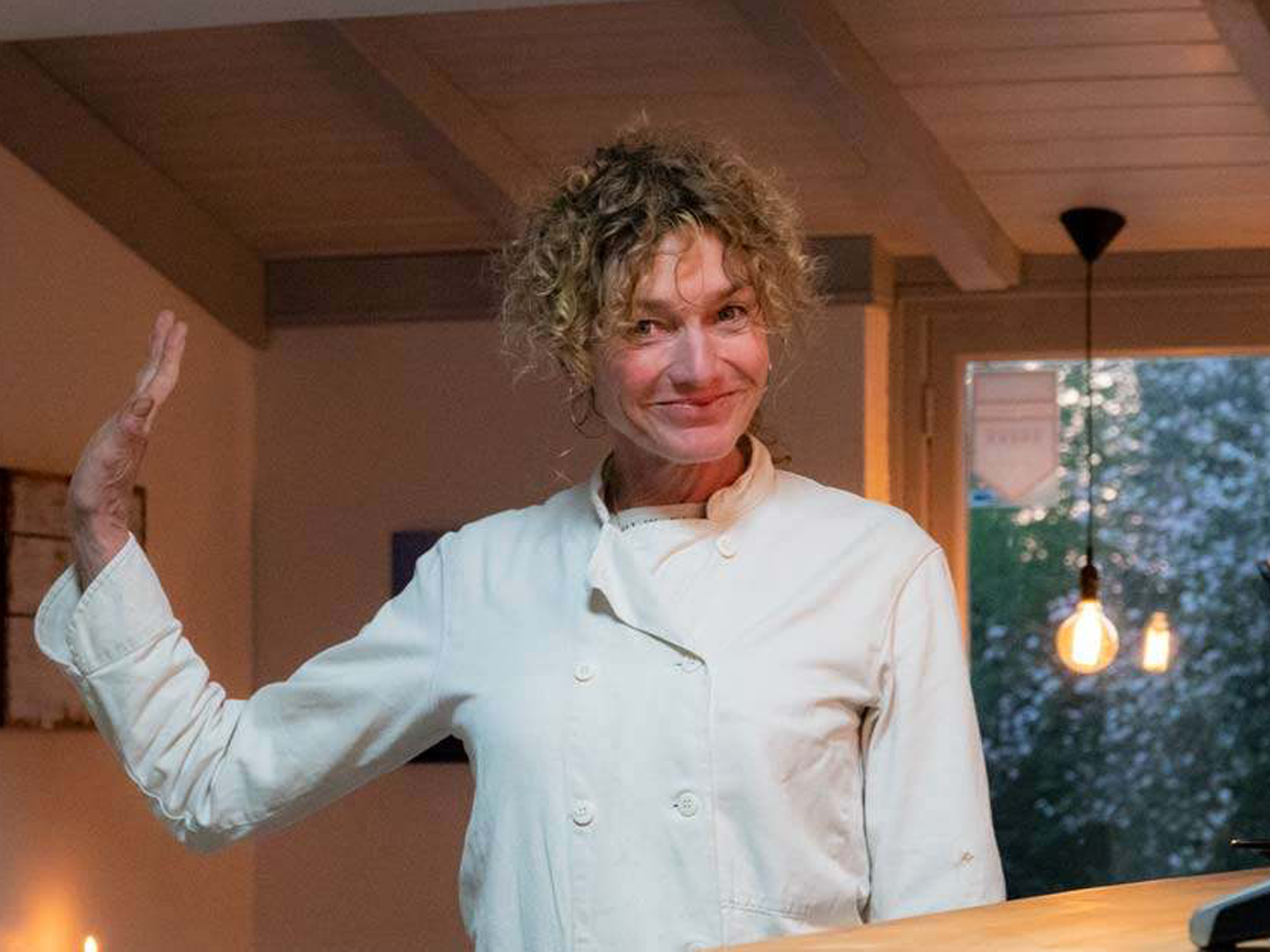 Auberge de St Thegonnec - A semi-gastronomic treat, just a short drive from Kergudon, serving classic french dishes with a modern twist. Please check seasonal opening times. Reservations are recommended. tel: 02 98 79 61 18 Auberge de St Thegonnec Website

Crêperie De L'Argoat – Just opposite the church in Sizun (7 km from Kergudon) you will find this charming crêperie. The menu extends to steak and various other dishes which are all excellent and there is a weekly Moroccan couscous night, which is excellent!

Au Lac Restaurant  - This restaurant is a gem and is sited in the most picturesque of locations overlooking the beach on the Lac Du Drennec.  The restaurant is open from Easter to early autumn. Reservations are recommended. tel: 0298240097 Restaurant Au Lac Website.

Feel Good – Brasparts (12 minutes by car from Kergudon) is home to this quirky bar-restaurant-pizzeria-grill. We have had some excellent pizza (Really excellent!) in this place and there is a great atmosphere always. Feel Good is a little further from our gites in Brittany but worth a visit especially if you like good pizza. Have a look or contact them directly here.
L'Unique, Restaurant Du Relecq  - In the very heart of the Monts d'Arrée and opposite the Abbaye du Relec, the setting for this restaurant is surrounded by woodland. The restaurant warmly invites you to discover its traditional gourmet cuisine. Regional specialities. Kig ha Farz every day by prior request for groups, and for individual diners once a month.
...a little further afield, but worth the effort!

We obviously cannot list all the restaurants around but there are many to choose from during your holidays in France and Brittany boast some of the most amazing produce and chefs. Here are some of our favourite restaurants that are not too far from Kergudon Gîtes in Brittany:
Le Crabe Marteau in Brest (45 minutes by car) is exceptional and a lot of fun. The menu is limited but 'it does what it says on the tin', fresh crab and a hammer .... entertaining and delicious.
Le Viaduc in Morlaix (25 minutes by car) serves absolutely gorgeous food and is right in the heart of the medieval town and well worth a visit. Have a look at their website for opening hours and contact details. Restaurant Le Viaduc Morlaix
Lé Grande Café De La Terrasse in Morlaix has one of the most beautiful interiors harking back to the wealth of Morlaix in its golden age.  We would describe this as what Café Rouge and other chains are poor imitations of when trying to replicate a typical French (Parisian?) café. This the real thing. Excellent for both lunch and dinner or just a coffee in the sun. tel: 0298882025
Les Bains Douches in Morlaix is in fact the old bath houses of Morlaix and is set in the back streets just next to the river.  Traditional dishes with taste and ambiance, this is another fun place to try especially in the evenings. Booking is essential as it is always full. For opening hours have a look at their website: Restaurant les Bains Douches

Three Course Supper Menu
We are also aware that even though you are on one of a self-catering holiday in Brittany, there may be days you do not want to drive to a restaurant or cook for yourselves. Therefore, we offer a home-cooked three course supper menu which is available several nights each week. David (cook) changes the menu regularly to use the excellent local, seasonal, produce.
Please note that our Three Course Supper menu is only abvailable on a limited number of days and it is not always possible, it is also booked on a 'first come, first served basis'.
A minimum of three days notice for dinner orders is required.
Our 'Kergudon' breakfast is included in the Nightly Tarif for Stable only. 
Breakfast is available to anyone staying in our gites and is delivered to your cottage but must be ordered in advance.
Please contact us for the current breakfast menu and prices.
Please note that for breakfast orders from the menu we require 3 days notice for orders.
Three Course Supper menu is priced at 85€ for two people and 150€ for four people
Our three course supper menu is extremily popular. David perpares all the dishes from locally sourced ingredients. Many of the recipes have been created specially for the local ingredients form the surrounding farms and artisans.
Please contact us for the current menu and availability.
Please note that we require 3 days notice for orders.