French Holiday Cottages For Christmas & New Year
Kergudon's gites are the perfect holiday Cottages for Christmas and New Year in Brittany
We are now taking bookings and reservations for 'Noël en Bretagne' 2021. Contact us here for your perfect Family holiday cottage in Brittany for Christmas.
The festive season is simply wonderful in Finistère. At Kergudon Gites we are open all year round and we offer a range of seasonal breaks and offers so that you can discover the wonders of our beautiful region of Brittany while it is peaceful and magical.
Start a wonderful new tradition and celebrate Christmas and New Year in a beautiful French cottage.
Perhaps you are simply looking to escape for a pre-Christmas self-catering break or spend your festive holiday in one of our French cottages.
Over the festive season Ben & Dave decorate all the French cottages with their very own Christmas tree, garlands, candles and decorations so that you can spend a magical and cosy Christmas with the family all together. The Christmas themes runs throughout the gites and makes the cottages feel festive and magical.

French Christmas Markets & Shopping near to Kergudon Gites
Expertly crafted gifts and present ideas can always be found at the annual Artisan Marché Noël in Chateaulin which is hosted every year in a large hall, packed with local artisans and crafts people.
Just 20 minutes from the Holiday gîtes in Brittany at Kergudon lies Landerneau whose Noel illuminations are very pretty and the bridge in the centre of the town houses several crêperies and shops and is always lit up. Landerneau has an excellent gallery and exhibition space at the Fonds Leclerc along with a lovely town centre and town market.
The Marché Noël at Roscoff is stunning with its harbour side location and picturesque Breton architecture. There is a wealth of gorgeous restaurants and shops as well as costal walks which are beautiful in the winter months. Roscoff town centre is an easy 40 minute drive from the gîtes at Kergudon and makes for an excellent day out.

Things to do during Christmas & New Year in Brittany
Walks around the Lac Du Drennec and in the forest of Saint-Cadou are just wonderful in the winter. There are also some wonderful walks around St Rivoal and the Menez Mikel as well as Sizun, Morlaix and Roscoff. There are some stunning cliff top walks a short drive away on the Crozon peninsular.
One of our local breweries Coreff make their delicious Coreff Noel for the festive season which is served in many local bars and is absolutely perfect after a long walk through the hills and forests of Saint-Cadou and the Monts d'Arrée. The bar, Ty Coz, in the old market square in Morlaix serves a range of Coreff and other local beers and is an excellent place to soak up some festive atmosphere before or after a walk around the town and the famous viaduct.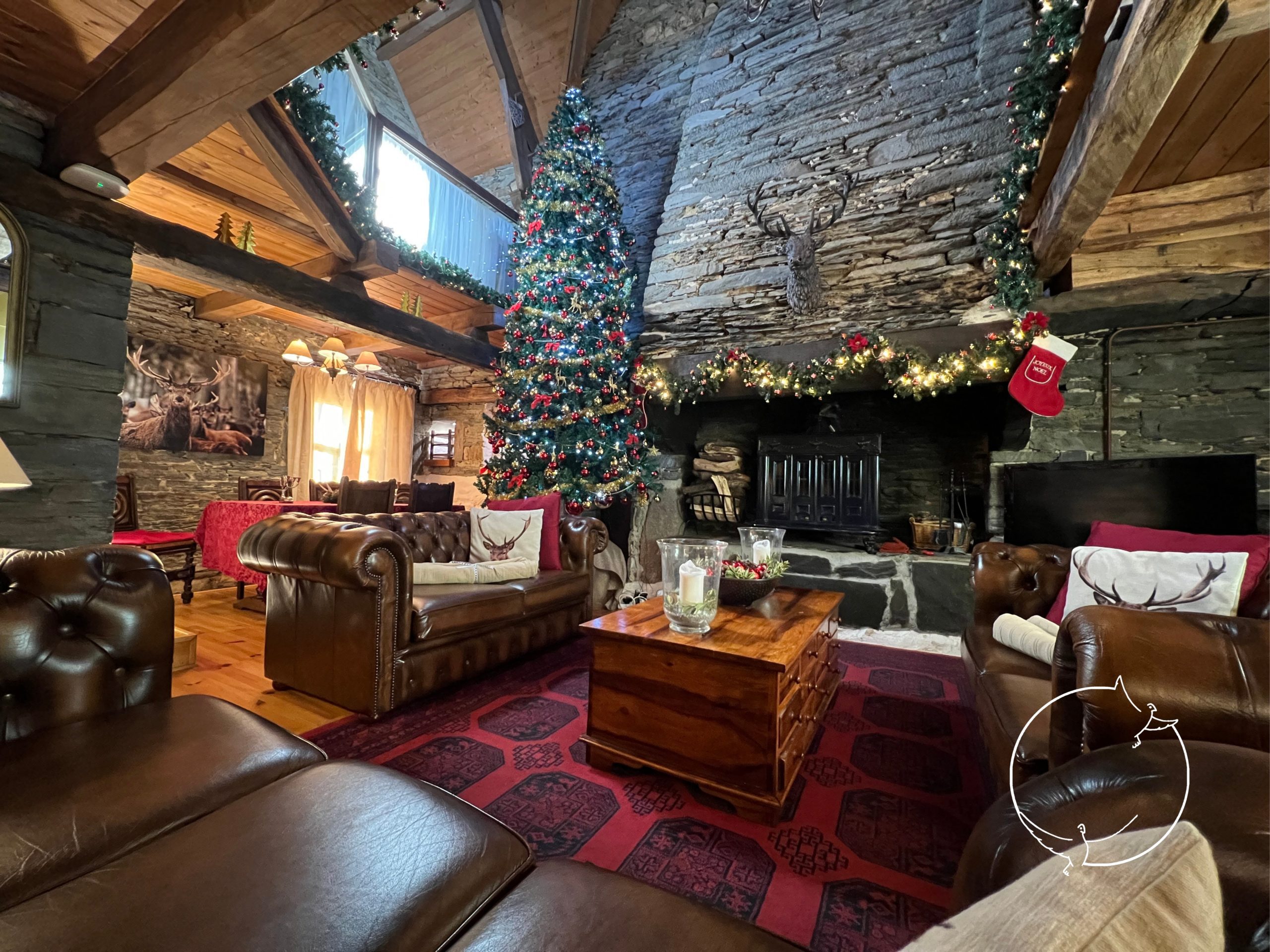 Priory
The Priory is magical for a Christmas and New Year holiday in Brittany. With it's vaulted ceiling in the lounge and mezzanine bedroom, king-sized bed and ancient fire place, amazing memories can be easily created.
The kitchen and lounge are both decorated with garlands and wreaths and a lovely Christmas tree placed in the lounge to create the perfect centre piece for your Christmas holiday at Kergudon.
The Priory sleeps 6 people in total with two king-sized beds and a twin bedroom.
Christmas & New Year in the Priory is priced at 1100€ for a 7-night stay.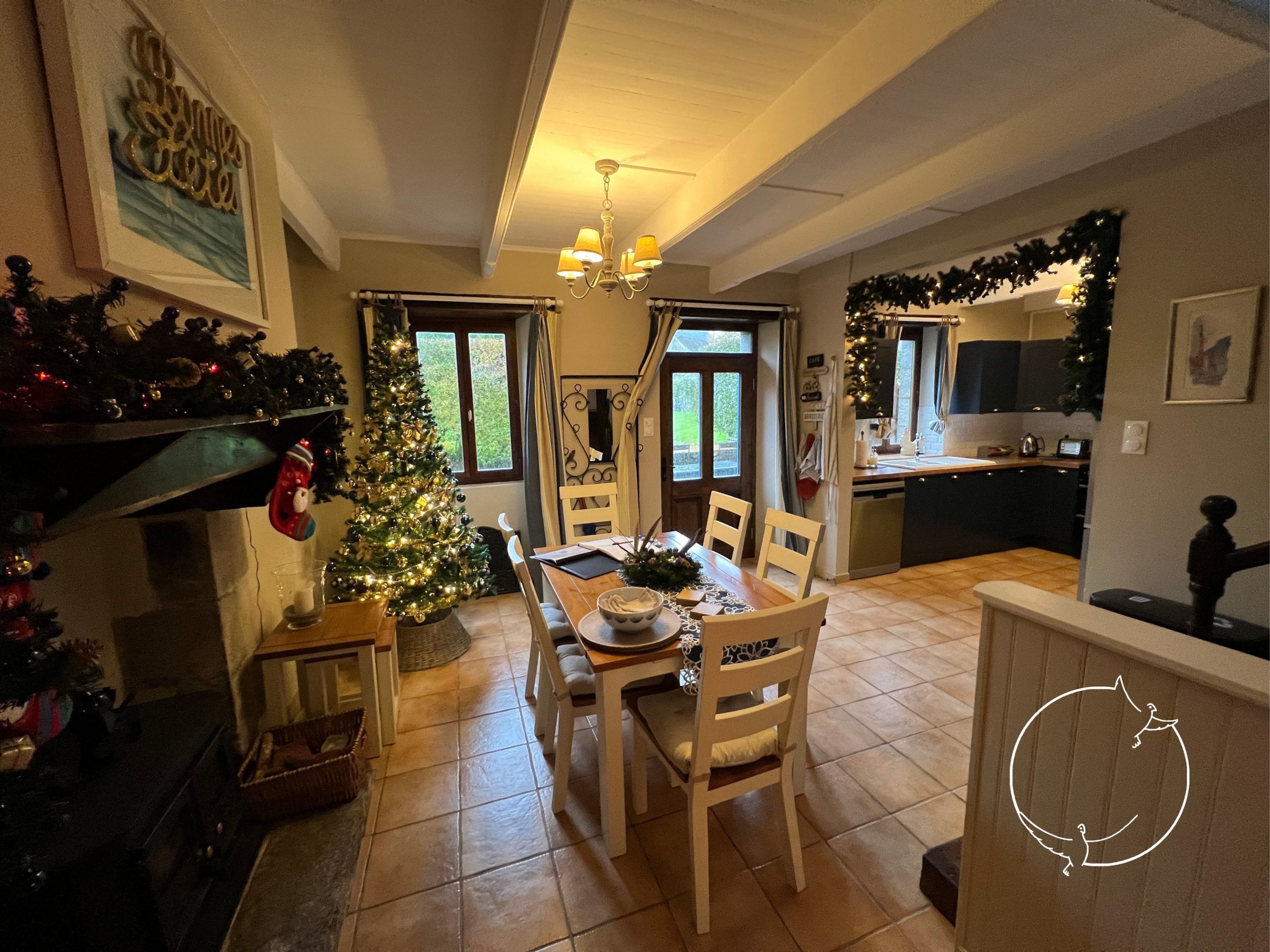 Granary
The Granary is beautiful and elegant during the festive season and is a wonderful cottage to enjoy during your Christmas and New Year holiday in France.
Themed in blue and gold the lounge is decorated with garlands and wreaths and the kitchen/diner is decorated with garlands and wreaths and a Christmas tree creating the perfect centre piece for your Christmas dinner at at Kergudon.
The Granary sleeps 6 people in total with one king-sized bed, one double and a twin bedroom.
Christmas & New Year in the Granary is priced at 1000€ for a 7-night stay.

Hayloft
The Hayloft is perfect for a couple who want to escape the madness of the festive season. Cocooned in this perfect nest you can spend quality time together to relax and unwind over the Christmas and New Year festivities in Brittany.
Themed in green and gold the lounge and bedroom in this cosy studio gite are decorated with garlands and wreaths a Christmas tree creating the perfect nest for a relaxed and charming Christmas and New Year getaway in France.
The Hayloft sleeps 2 people in a king-sized bed.
Christmas & New Year in the Hayloft is priced at 650€ for a 7-night stay.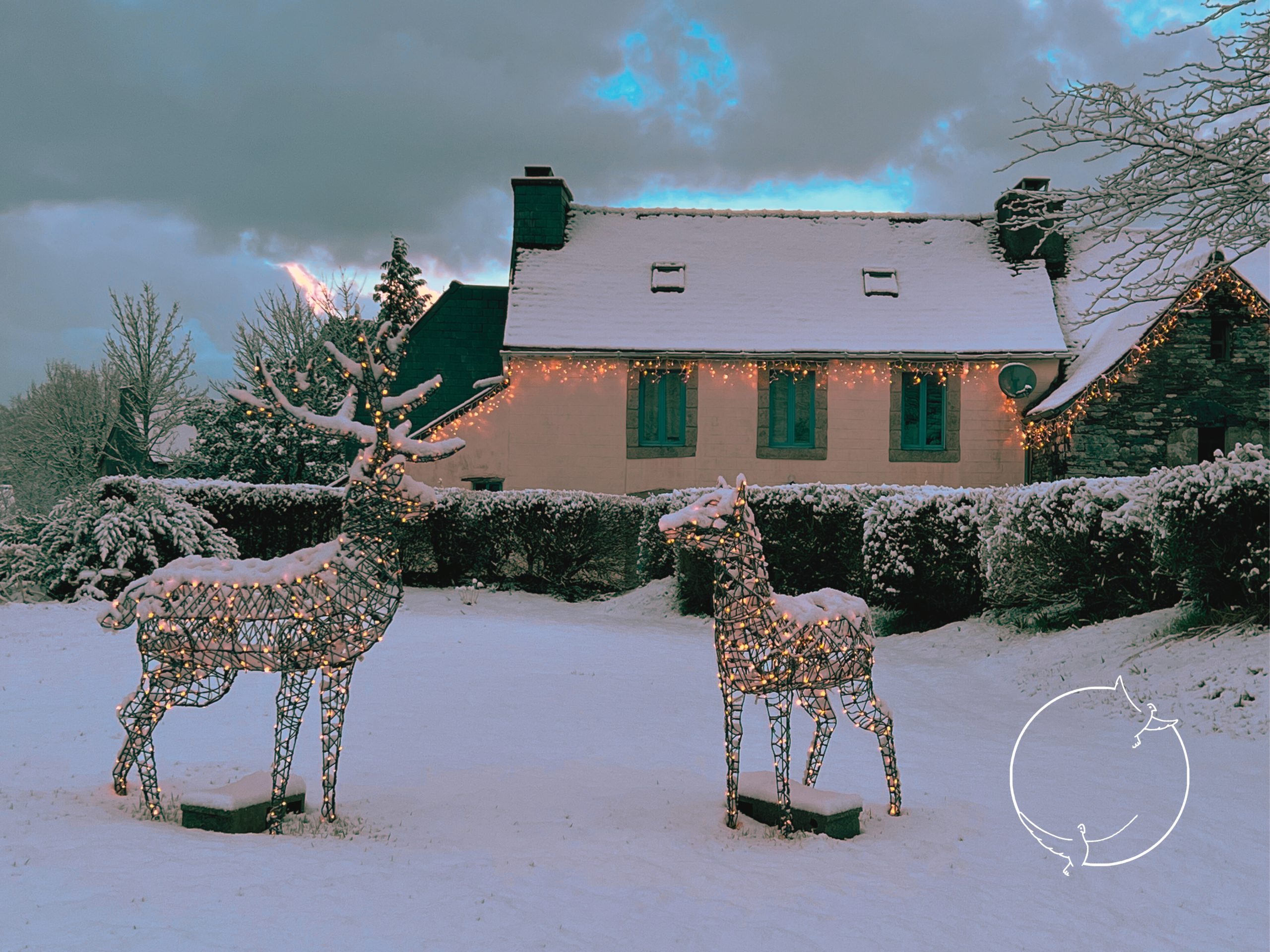 French cottages for Christmas and New Year for all the family.
Unwrap Good Times this Christmas in one of our cosy cottages at the Gites de Kergudon – the perfect way to celebrate the festive period away from home. If you are looking to get away with the one you love for an intimate and romantic holiday in our Hayloft Gîte or perhaps want to rent a larger property  like the Granary or Priory Gites that are big enough for even the whole family, you will find it at Gites de Kergudon. Our holiday cottages for Christmas sleep from two up to six and with the addition of our Stable Gîte our cosy cottages are perfect for a family or group of 6-10. Whether you are looking for a romantic winter break or quality time with the family, we have the perfect cottages for your cosy getaway in France.

Cosy up and relax in a beautiful Christmas cottage in France
For the perfect festive getaway, you can enjoy your Christmas celebrations in a cosy French cottage within the beautiful surroundings of Finistère in Brittany. Whether you are looking for a French gîte with character or a larger property big enough to house the whole family, you will find what you need in our small collection of gites at Kergudon. Spending Christmas in a cosy cottage is a wonderful idea to try – spend time with the ones you love in a comfortable home from home, relax, and let that holiday feeling fill you with Christmas cheer, whilst escaping the madness of the Christmas rush in the UK.
Tuck yourselves away and experience the relaxing crackle of the wood fire as you dive into board games, read a book, or watch a film on the tv. As you indulge in the comfort of your Christmas cottage. Embracing the shorter days is easy in Finistère with frosty air and dark starlit skies as you snuggle up on the sofa or tuck into a hearty home-cooked dinner of wonderful French produce.
Unwrap Good Times this Christmas in one of our cosy cottages at the Gites de Kergudon
Perfect for a romantic festive getaway or a Christmas holiday for all the family, you will find yourselves breathing in the fresh and crisp air of the Monts d'Arrée and exploring the wonderful forest walks and views of the lac du Drennec. Find inspiration at the variety of Christmas markets and beautiful towns and coastal villages of Brittany.

French Cottages for Christmas and New Year, what's on?
In the run up to Christmas and New Year, Finistère has lots and lots of attractions to visit including a wealth of Christmas markets with local artisan gifts and produce so if you are visiting before Christmas you can find some wonderful presents for all the family before coming back to your beautiful French Cottage at Kergudon.
Towns to visit near Kergudon Christmas Country Cottages:
During Christmas and New Year the famous town of Locronan has stunning Christmas illuminations and a lovely Christmas market and independent shops. The architecturally beautiful town of Morlaix hosts a vibrant Christmas market right through to the New Year and boast some fabulous bars and restaurants including a fabulous 'Cave' selling a local gin, H2B Gin.
Attractions and things to do on your Christmas Holiday in France
Just 40 minutes by car from Saint-Cadou you'll arrive at the Marché Noel in Brest which is great fun with shopping and fair rides. You can always make a real day of it and visit the very interesting maritime museum, the aquarium at Oceanopolis and enjoy lunch at one of the many excellent restaurants down at the old port.
The Chateau at Trevarez which is just outside the town of Chateau Neuf du Fou has an annual Exposition Noel along a theme and its stunning landscaped gardens are transformed at night with illuminations and projectors which are especially fun for all the family.