Short and (hopefully) sweet this week!
I said in last week's blog that I hadn't started taking down the Christmas decorations as we still had guests stay with us until last Saturday.  Thankfully, it seems that the French don't have the same tradition of having to take decorations down before Twelfth Night to avoid bad luck as a number of neighbours still have their trees up too.
It also said that the weather had been pretty wet too preventing me doing anything outside. In the last 7 days, one thing has changed the other hasn't.
The weather has remained pretty awful, windy too to add to the wet, which has assisted one task (taking down the decorations) but frustrated another (clearing the mountain of laundry), not to mention preventing us making any progress on our many 2023 projects.
The blog also mentioned that another reason I didn't start taking the decorations down was because having lots of them now, we need so many boxes to store them it is easier to use the games room to spread things out. Whenever we have guests here we try to keep it available in case they wish to use it. The decorations looked amazing when they were up and you will recall it took a while to put them up before Christmas. I'd hoped it would be a little quicker to take them down!
With the wet weather I have had to stay indoors so I have managed to take down most of the decorations, but it also has meant that, having been fortunate enough to have so many guests stay over Christmas, all of the laundry which we I hadn't washed up to now, also has to be dried indoors too.  The games room is truly a multi-functional space!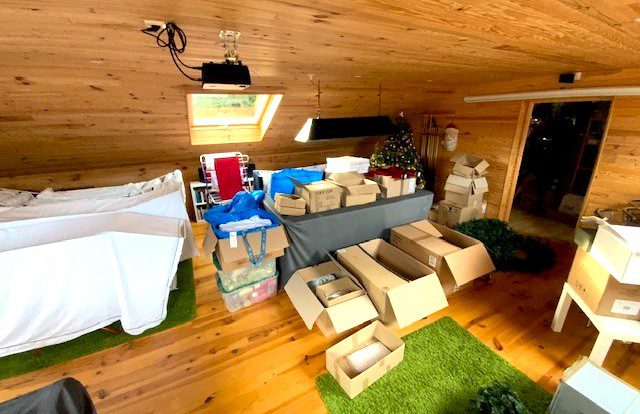 On the one half decent day we had, we headed into Morlaix to buy some supplies for one of our projects – also outside so not yet started. However, in a classic case of one thing leads to another, as a result of getting the supplies we now need to replace the base of our trailer …
With luck (or just better weather) I will be able to start this particular project next week.  Like so many of our tasks, there are a few things that need to be done, sort of mini-projects, before we get to the actual thing we want to achieve.  Hopefully more of that next week – and the chance that we can make a more constructive start to 2023!
À bientôt.