Last week has been another of fabulous warm, dry weather.  After such a soggy, and relatively chilly, start to the year it has been very welcome and allowed us to continue with Stable's façade that I began the previous week.  Of course, it does mean that now, after 2 weeks without rain, it will only be a couple more days before I start complaining about how dry it's been and how we desperately need some water …!!
The week started with working to get television reception into a couple of the buildings.  With the gîtes, we have both UK and French TV so we can cater for as many guests as possible.  However, we have never had TV reception in Stable as, being our chambre d'hôte (B&B) people tend not to be there for more than a couple of nights, although we did have a TV that could play DVDs for people who wanted to watch a movie.
A couple of guests have said that, while Stable is lovely, they felt it would benefit from having TV especially if staying for a slightly longer period.  Having had the roof replaced, so it looks amazing, we didn't want to put a satellite dish on the outside and we knew that we can use an old-fashioned aerial in the attic as it works well in Hayloft.  We probably benefit from being relatively close to a very large TV transmitter which is located on the high-point of Brittany which is only 10 kms from us – as the TV signal 'flies'!
Before I enclosed the attic of Stable I took the opportunity of the light to install an aerial and we are now connected!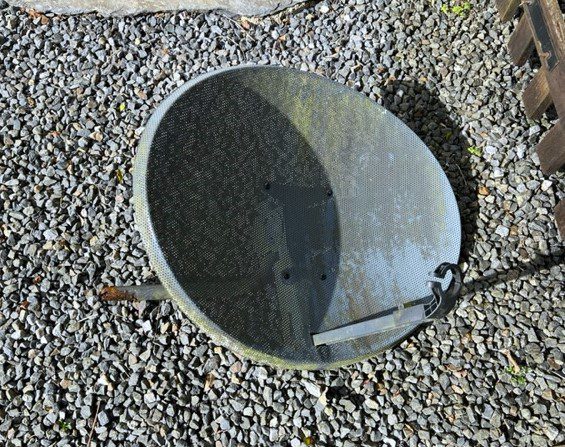 Granary, one of our family gîtes, receives UK television via satellite as, being in northern France, we are in the area which can receive a signal.  However, a few months ago when I was setting the gîte up for UK guests, there was no signal.  At the time I called a friend, Frank, who used to install satellite dishes professionally, to come and trouble shoot the problem for us.  It didn't take too long – and I could have done it – as, as soon as he climbed the ladder and looked at the dish, it was obvious that the old arm holding the dish to the wall had completely rusted through.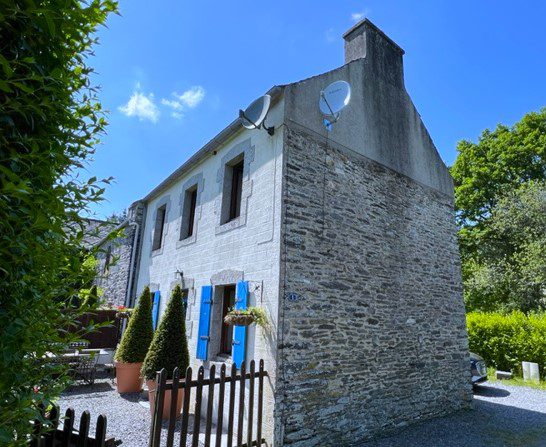 Thankfully, the guests at the time were happy not to have UK TV, and only now has it needed to be the priority with other English speakers arriving next week.  I replaced the old bracket and dish and Frank came back with his gadget that allowed us to align it correctly and get it set up correctly.  Two good jobs completed.
With Garratt's paw having healed well, Wednesday became walking day again with our friends Sarah and Andrew. This time, Andrew's brother and sister-in-law were staying with them so joined us on our walk. This time we had a 12.5 km circuit in the fields and forest to the east of Huelgoat.
We would consider Huelgoat to be a 'must-visit' little town for people staying with us and, consequently, we are very familiar with the town. We are less familiar with the area immediately around it and we had never walked any of the paths on this circuit.
The weather was amazing, and again the scenery too and on this walk we decided to take a picnic as it was slightly longer than previous routes we had walked together.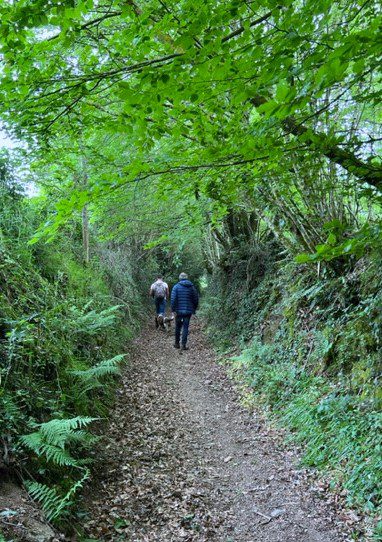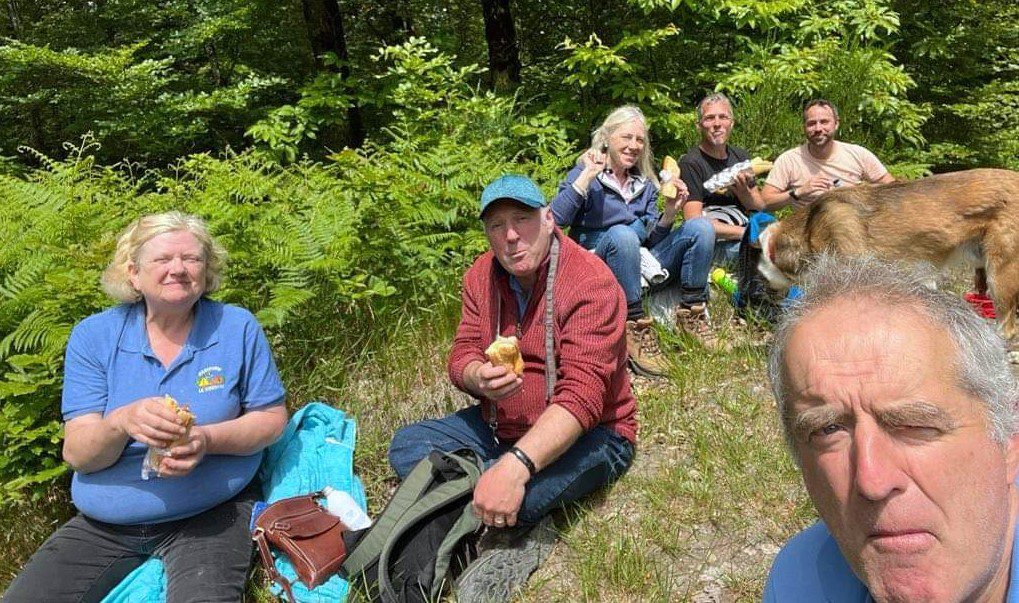 Aerial done, on Thursday I continued with the new façade of Stable.  As we had done when we clad the garage way back in 2017, I thought it would be a good idea to include a waterproof membrane behind the cladding making it a better job than previously.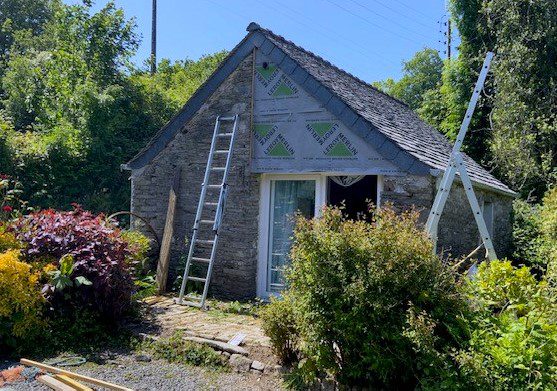 The previous cladding was cut roughly to meet the edge of the stone which meant there was always a gap where water and wind could get in. For our new cladding, I have screwed a beam against the old stone to give the cladding a straight edge to end at but this created a variable gap against the stone so I have experimented with some lime mortar for the first time to point the gap.
The wood we used was treated which makes it a very bright yellow, although I didn't take a photograph of that.  It does fade quickly although I stained it before it had a chance to fade too much, but it has created a colour lighter than I was expecting – although we like it.
With the wood stained it was a, relatively, quick task to add the new light and Stable's name plate that has been in my shed since we moved here!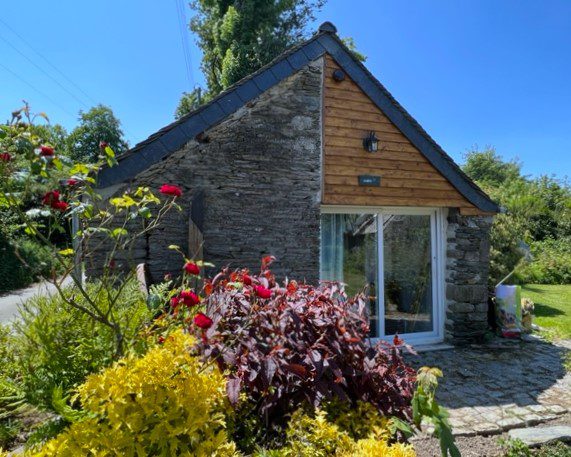 Now done, it has completed this stage of the Stable work.  We have other plans for the outside over the next couple of years but, more immediately, we are disappointed that the company we ordered the new front door from has turned out to be so hopeless.  Having ordered the door in November last year, during the week we received a message from them saying there has been a further delay and it won't be fitted until September!  As a consequence I have not replaced the wood directly over the door (which isn't visible in these photos) as it will need to be dismantled again and I will do that at the time.
Over the next couple of days, I have some clearing up to do outside and LOTS of cleaning to be done inside before Stable's first guests of the season arrive on Wednesday.
With the weather remaining fabulous, we decided that we would have a no-work day again today.  We had to go to Daoulas, a lovely market town by the coast, and we took the chance to do one of our favourite circular walks starting in Logonna-Daoulas which takes in spectacular views of the Rade de Brest.

The Brittany coastline has miles of inlets, estuaries and coves including the huge, and well protected, Rade de Brest.  We are always amazed at how quiet the water is and how underused as we would expect it to be crammed with yachts, dinghies and other water users.  Today we saw a couple of fishing boats and 2 paddle boarders otherwise, nothing!  At least it makes for a peaceful walk along the coast.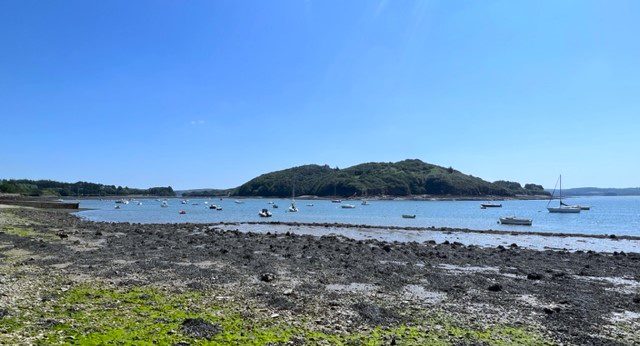 Next week, if the forecast is to be believed, we may actually see our first few showers towards the end of the week, so we have a couple more days to work outside, get Stable cleaned before our next task!
Kenavo.