Last week's blog showed the good progress the roofers had made in a single week replacing Stable's roof.
Even with last Monday being a public holiday, they have now almost completed the job – just a couple of finishing touches to be done on Tuesday – tomorrow is also a public holiday!
We are very happy it has been done and it looks glorious. What else did you think the title referred to?!
Foolishly, we didn't take a specific image of Stable's roof before they started removing it to show how 'wavy' it had become.  I have found a couple from late last year (one when we were trying to show our new Christmas lights, so excuse the deer) which give an indication, but after a blustery spring a few more tiles had slipped and, looked from a certain angle, it was very evident that the frame holding it up had seen better days.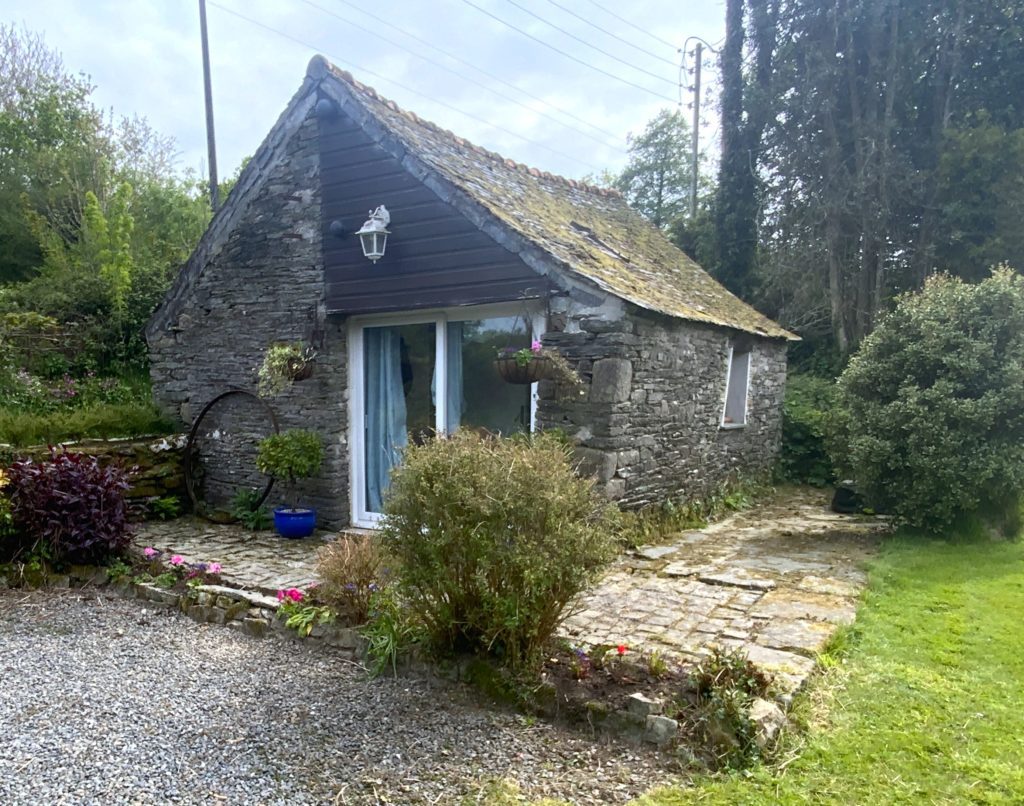 Even without the comparison, the 'now' pictures show how good it looks.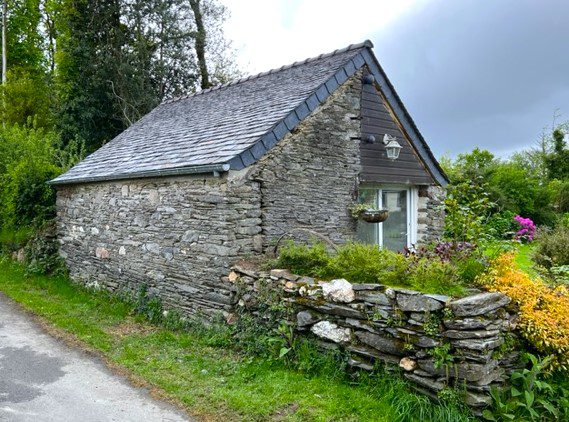 We don't have to worry for a number of years now about any possible leaks after a particularly strong wind! There are a couple of things that we want to do before we open the calendar (including sorting out the lawn!) which is to replace the brown wooden front and exterior light with something more attractive. Later in the year the white patio doors are going too but the company we have asked to do that are really slow … Then the terrace, front and back, although probably not until next year, we still have big plans for this little pearl.
The roofers were advantaged by a drier start to the week than had been forecast, as were we because we were able to get a lot of weeding done and generally try to tidy up some of the winter growth. While it hasn't been exceptionally warm so far this year, it has been wet and lots of weeds grow on the gravel terraces we have outside our gîtes. The gravel is also on a very long list to lose!
Hayloft had a couple stay for 3 nights towards the end of the week and it is full now almost until the end of September so we started by clearing that.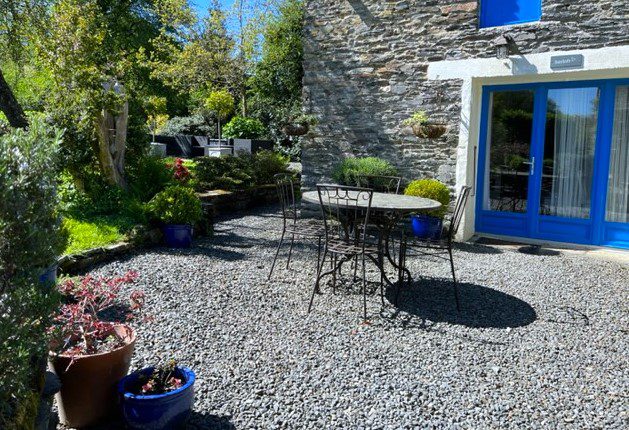 David then moved onto Priory and our own space while I gave the outside of the talus along Hent Gorreker and Stréat al Louarn.
We are very lucky to have some clearly defined boundaries to Kergudon most of which are traditional talus (old stone walls or embankments) that border the tracks around us.  When not overgrown with bramble and other weeds the stones look very attractive.
Since we moved here we have made lots of effort to make the entire boundary more attractive from all angles. We have felled lots of self-set trees that were pretty much weeds, mostly sycamore and ash, and replaced them with a couple of more attractive varieties and planted holly, yew and lonicera all around. In time they will make a lovely hedge.
Being on a talus, and so only getting rainwater effectively from one side, the new hedging is taking a while to establish and, on the north side, not much sun either. By clearing the weeds a couple of times a year I hope to reduce the competition for water and light the plants have; slowly reduce the number of weeds growing; and prevent the weed roots growing too large and so de-stabilising the wall which will eventually lead to its collapse which has happened in a couple of places at the back. Also on my list to do something about – but a long way down!
The cleared walls look so much better and I am encouraged that some of the hedging is growing more strongly than I'd thought.  With our autumn plans it should help them all further.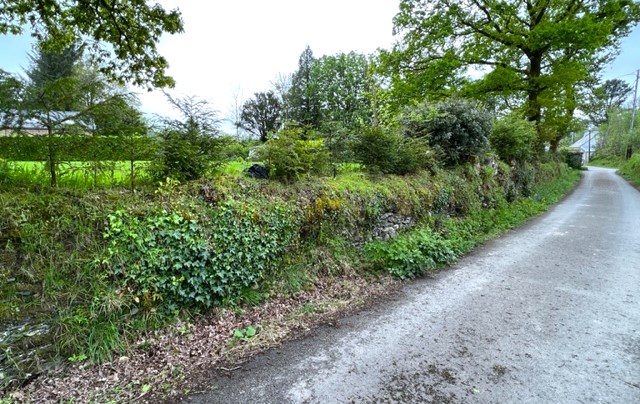 We had an easier day on Wednesday and joined a couple of friends on a long dog-walk around the village of Plouyé.  You may remember the name of the village from a blog a couple of weeks ago as it has an excellent pub there that our friends visit fairly regularly.  Last year, they found a marked walk around the village that allowed us to explore this very attractive part of Finistère but also allowed us to support this vital local business at the end!!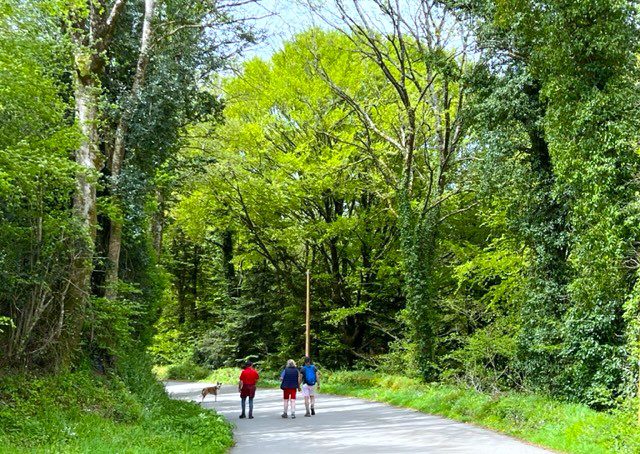 This part of Finistère is amazing to walk through any season, but spring is when it is at its most verdant and new life is on all the farms and in all the fields.  There are also an unusually large number of small chapels and this particular walks took you to 4 around Plouyé alone.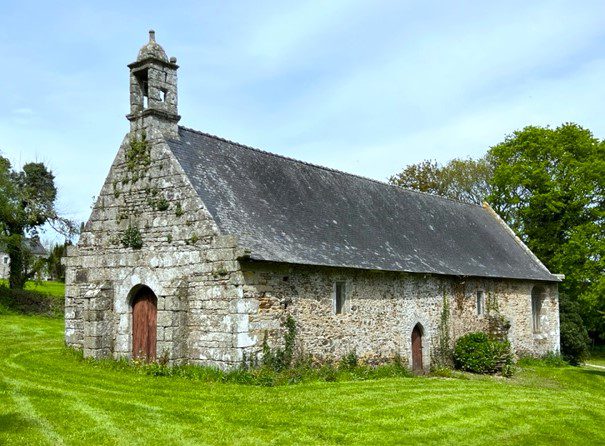 The weather broke on Thursday so I had to switch to smaller, generally indoor, jobs but it was handy we had to prepare a couple of gîtes for guests to arrive so we could do that and stay dry.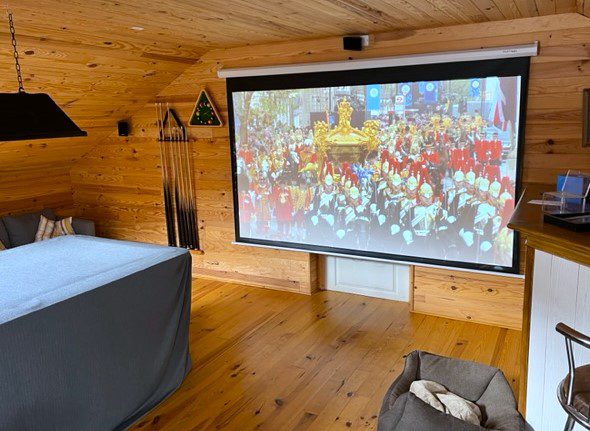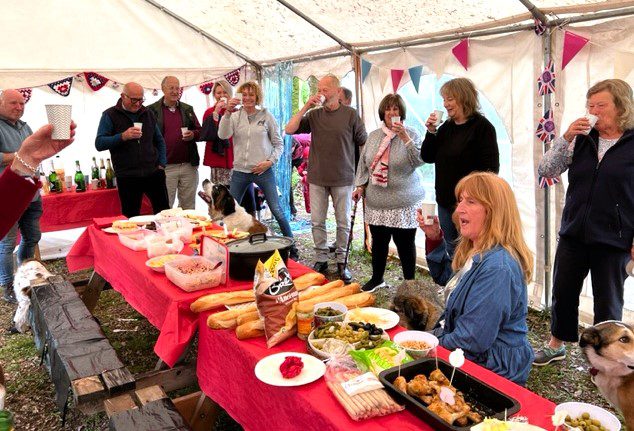 Yesterday we had a lighter day and made use of the Kergudon cinema to watch the coronation on the big screen – can't bit of pomp and pageantry – and then continued to mark the occasion today with some friends who run the local campsite on the shore of Lac du Drennec.  While we would obviously prefer you to come to the best self-catering gîtes in Finistère our friends, rather brilliantly, have been rated the second best campsite in the département.  Well done them.
This blog has somehow ended up listing more jobs that I plan to do in the future than what I have achieved last week!  However, next week, weather permitting, I will be able to make some progress on other tasks as we continue to work our way through that, never-shortening, very long list …
Salut.