Re-reading the last blog I posted 2 weeks ago, there are some similarities to what I said then to what has occurred in the last couple of weeks.
Then, I said that we had just endured Storm Mathis which brought strong winds but no damage. Last week the forecast was for Storm Noa to pass over us on Wednesday, which it did but, thankfully, with zero impact.  I think it hit the UK harder than here although a little further to the east of us, there were a few French départements on Amber alert.
The blog finished stating that the forecast had indicated a change in the weather to a warmer and, more importantly, drier week in the build up to Easter. This turned out to be the case and we spent most of it working outside.
Despite the year so far being so wet and cold, the lawns continued to grow apace.  Whenever it was dry I mowed, not knowing when my next chance would be, but saw that most of our lawns had become 20% grass and 80% moss and weeds.  A couple of years ago we thought that, being British(!), we wanted (needed?) to have the perfect lawn.  We always cut it frequently and in a couple of spring seasons applied a weedkiller / fertilizer combination and even, in 2019, we treated ourselves to a petrol-powered scarifier.
We managed to use the scarifier when we bought it – in both the spring and autumn – but I don't think we've managed since! What we have learned however, is that having acidic soil as we do, means that moss is always going to be a problem and cutting the grass short, which we did, helps the moss rather than the grass.
What we recall from our first scarifying was that it pulls out A LOT of moss and makes the lawn look terrible for a while so really should be done when it is wet but warm so the grass can recover quickly.  With the pace it was growing it seemed like the ideal opportunity. They started looking like this: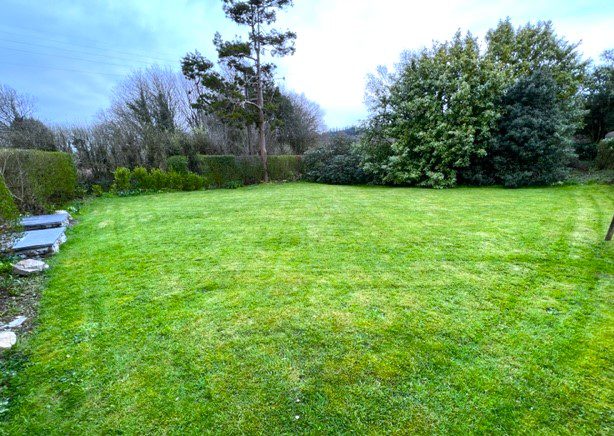 We managed to get all 3 lawns done although, having chosen to collect the moss and thatch pulled from the lawn by hand, it did take best part of 3 days to complete.  It did generate as much waste as we recalled and it definitely made the lawns look awful.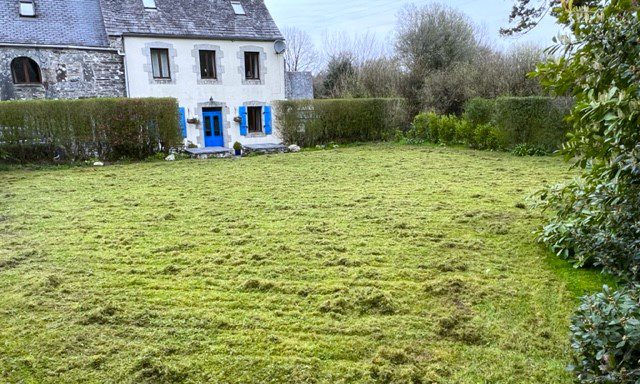 However, having scarified, we applied a weedkiller / fertilizer mix to 2 of the lawns and lots of new grass seed to the Granary patch that looked the most bare.  Having done all of that before Easter we weren't too disappointed that, since Easter Monday, the weather had reverted to the days of pouring rain that seemed to be the patter for 2023 so far!  It would certainly have watered the seed in, my fear however, is we have had so much rain it may have washed the fertilizer / weedkiller out!  This week we will know as we are now back to a sunny, warmer, period.
Before the weather turned, we had our first BBQ of the year and lit our firepit to enjoy what was a clear evening.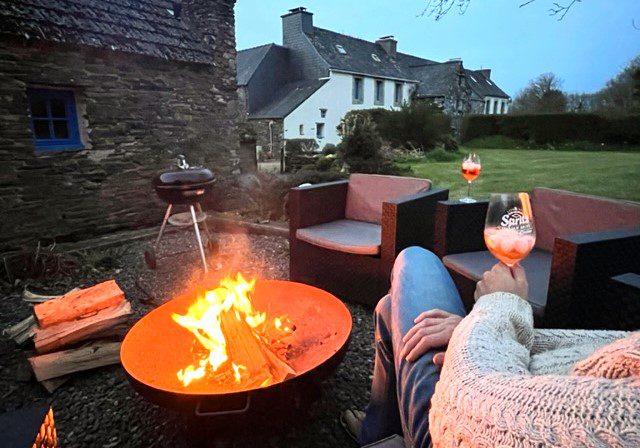 Sadly however, the post Easter weather meant that David's Dad couldn't join us when he'd planned.  His first ferry was cancelled due to the weather and his second because of the 11th day of French industrial action over pension reform (although we thought the crossing would have been cancelled due to Noa anyway).  Thankfully, third time lucky, he managed to sail overnight Friday and arrived with us yesterday morning for a slightly shorter stay than anticipated!
Last week I was unable to continue with the cable trench I need to dig between the garage and the house (for the EV charging point) as what I had started was constantly full of water.  Thankfully, as it filled up quickly so it drains quickly and yesterday I was able to break out of the garage and head across the drive towards the house.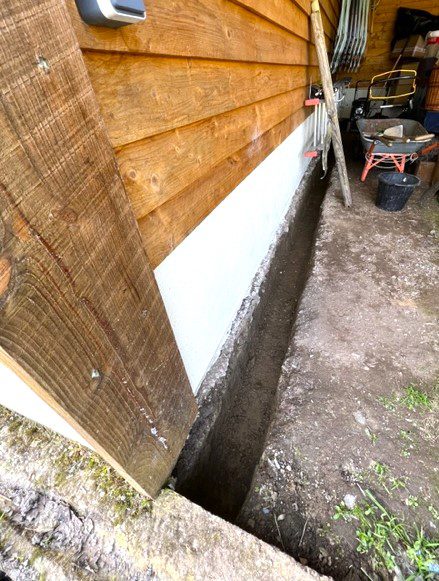 As ever, digging around here you never know what you'll come across.  Thankfully I didn't find anything unusual but there were a number of odd pieces of slate and concrete that couldn't be removed, so I have had to dig around and under.  I have probably now dug half the length required. The remaining part is under what was (and will be again) a terrace.  I know there are drains and water pipes here so I may make slower progress to avoid causing any damage.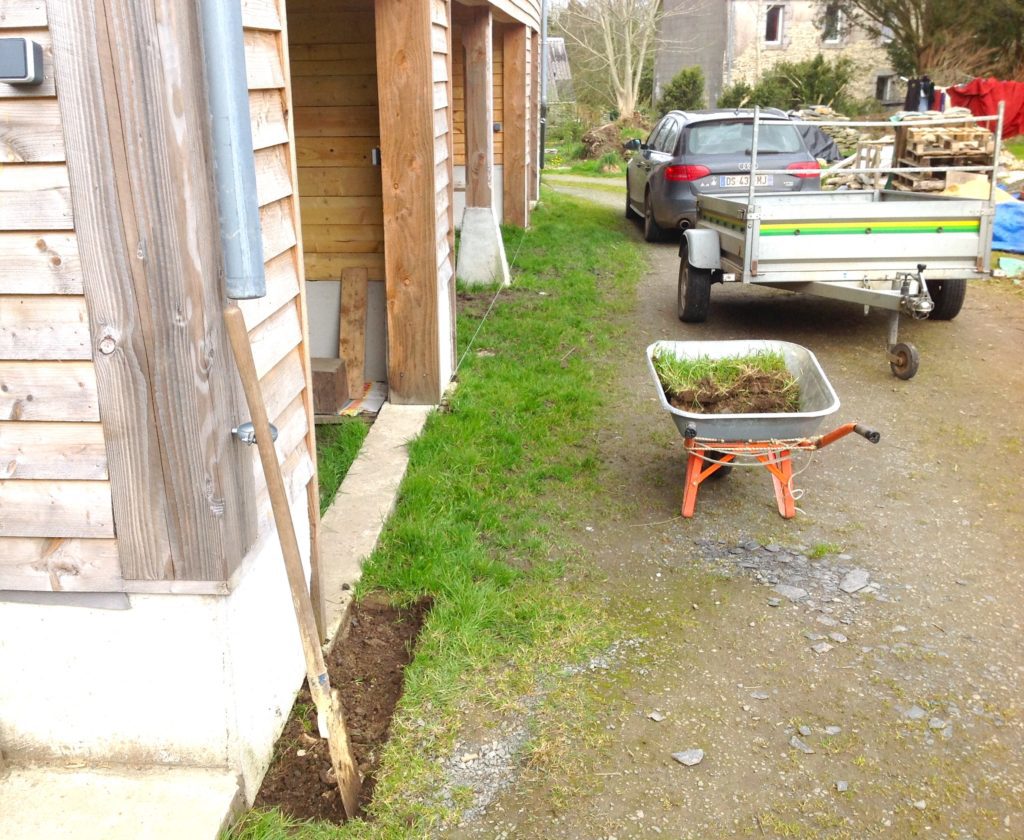 Amazingly, as I was writing this blog, Microsoft flagged the 'Do you want to see what you were doing on this day 5 years ago?' message.  Turns out I was digging the previous trench in front of the garage for the gutter.  April 16th is obviously dig day!  Reading the blog I wrote for that week suggests 2018 was almost as wet as 2023 has turned out to be only then we enjoyed some days in the 20s – here's hoping we'll get those too!
Despite having thought it was the case 2 weeks ago, now I am more convinced spring is around the corner.  Today has been verging on the hot so we did our Sunday walk along the Nantes Brest canal from Châteauneuf-du-Faou where the bird song was amazing.  We chose this as it was flat and David's Dad could join us – and it had  a bar where we could re-hydrate afterwards!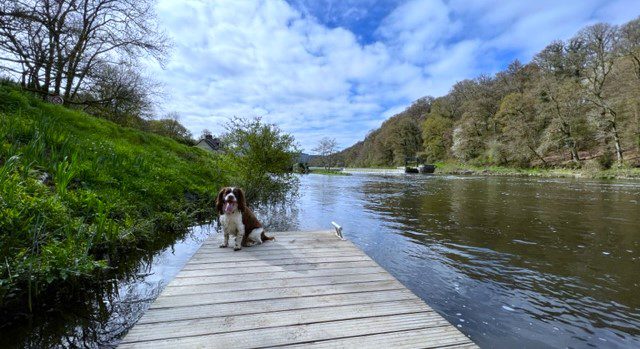 In our own garden, the cherries look as though they will burst into blossom imminently – and hopefully make a great display; and the wisteria has more buds on this year than ever (perhaps as I now seem to have got the hang of the pruning schedule!)  Unfortunately you can't see too well in the photos but when it's in bloom it should look magnificent.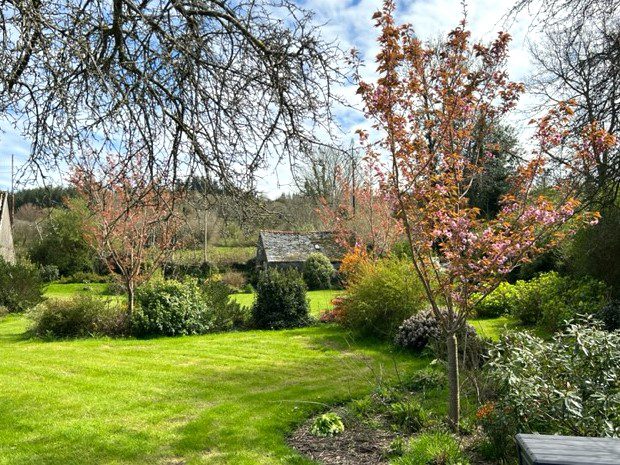 Fingers crossed the weather remains fine …
Kenavo.