Last week's blog ended with the hope that the weather would remain fine (as it had been forecast) and, if 2018 was any sort of pattern when I was last digging trenches in front of the garage, then we could expect some days of 20 degree heat.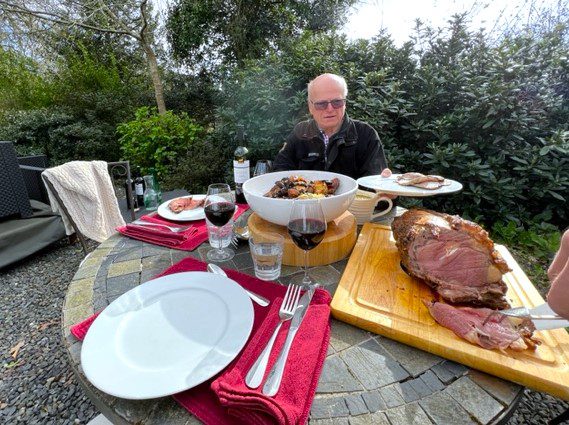 Thankfully, at least until today, we have continued to enjoy spring-like weather although the 20 degree warmth continues to elude us! Having had the driest week so far this year, we have also had a pretty productive week but sociable too as David's Dad was with us until this morning.
The weather was warm enough to enjoy a number of meals outside, including an amazing Sunday roast David made last Sunday evening and a mid-week BBQ.
At the start of the week I progressed with the cable trench from the garage.  I knew that, as I approached the house, I was likely to encounter a few pipes including drains coming in and out of a rodding point I had to pass close by, and the water pipe that feeds Hayloft, Stable and Dairy.  Not knowing what depth these things would have been previously buried I thought perhaps 4 maximum but, as ever, it is a gamble with what I unearth!
Eventually, I discovered 8 pipes and conduits of various sorts but, thankfully, only caused minor damage to one!  The drains we think we have fathomed in terms of where they originate but what was more intriguing, and requires a little more investigation, were 3 orange cable conduits.  We were expecting to discover one as we can see it exiting our utility room with 3 power cables (and it can just be seen to the right of the heat pump in the photo).  I was planning to add the new cable to the existing 3 and get it as far out of the utility room as I could in the conduit.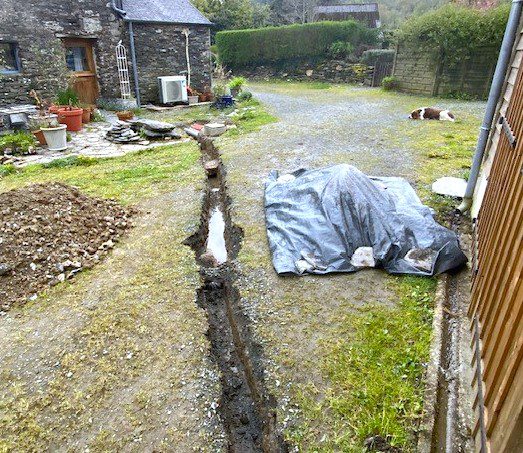 However, when digging, it appears the single conduit had split into 3 so I need to identify which the new cable will appear in, how and where!  At least having unearthed what's there we will be able to create a schematic for any future excavations!
We are hoping our electrician will visit early next week to measure how much cable is required and to install the charging box so I can fill it all in again!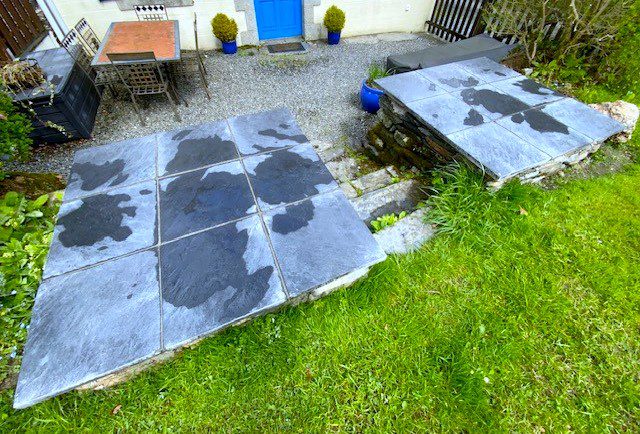 While it stayed dry during the week I have completed some other smaller, but no less useful, tasks including finally pointing the plinths we have created in front of Granary so they are now complete.  These will be where we will relocate the olive trees, currently in front of Priory, which will be replaced by the yews we have bought.
To pot both of these we needed to acquire a significant amount of compost or soil.  In a previous blog we said that the yew trees we had delivered were far larger than those we had actually ordered – and far bigger than the pots we had already bought in preparation for planting them.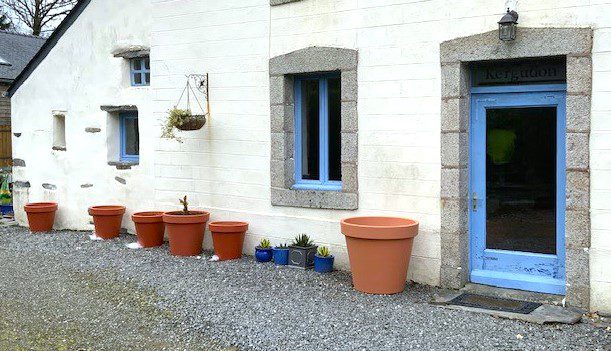 We have now found some appropriately large pots for the yews which also has smaller matching pots that we can use for some of our other tropical plants.  While they are not what we originally hoped for, they are the least offensive that we could find – and made of recycled plastic.  More terranotta than terracotta!
Sadly, we have again lost one of our banana plants and a canna lily during the winter but have bought some new rhizomes to replace them which arrived in the week and so also need potting up.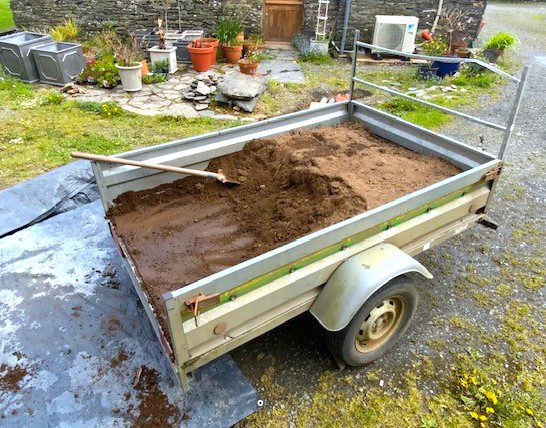 For the soil, we returned to the same friend who had allowed us to take some excellent top soil from their garden a couple of years ago.  They'd had a large area of their land scraped to create a parking space and the soil was piled up unused and growing lots of weeds.  As it was still there they allowed us to take some more which we have used to start the major potting up.
The new cannas are planted and I have re-potted some of the existing plants but we will approach another of our neighbours to assist with the yews as we think we will need the use of a tractor to lift them!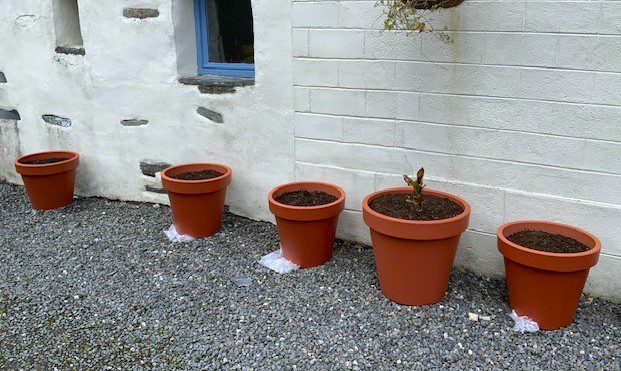 While they don't look much now, and it is possible that these won't be their final position, they should get a good start against this south facing wall. The plastic bags at the base will also go when I have made some labels – for now they are there to tell me which variety is which!
With David's Dad staying we have also been out and about a bit and enjoyed some excellent meals in some of our favourite restaurants, ones that we would certainly recommend to people staying with us, as well as trying somewhere new.
On Wednesday we headed to the beach town of Carantec and enjoyed lunch in Chez Gaby, one of 3 restaurants overlooking the beach, it is also an attractive drive along the estuary north of Morlaix.
Other favourites we ate at are La Faiencerie in Daoulas and the Auberge du Menez in Saint Rivoal.  The new restaurant was the Comptoir de Landerneau in, as you'd expect, Landerneau(!), which is very different in style to the others being more of a family steak and burger house but still with good food.
We also took the opportunity of visiting Morlaix market.  It has always been an excellent market with great fresh produce but, as it is held on a Saturday morning, we don't get to visit in the high season as that is when our guests depart and arrive.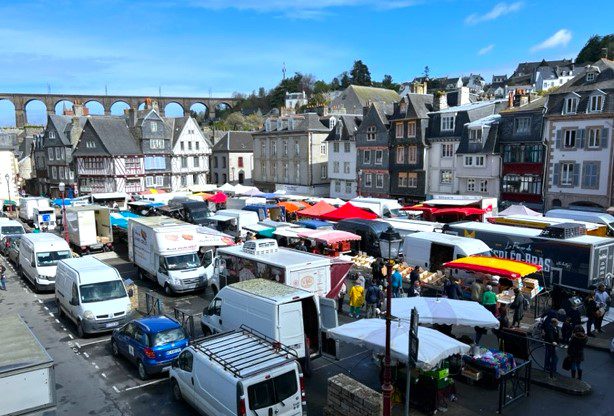 Having walked around the market, we popped into one of our favourite bars, Ty Coz, conveniently situated on the edge of the market square – a brilliant little bolt hole at any time with a great choice of Breton beers and drinks.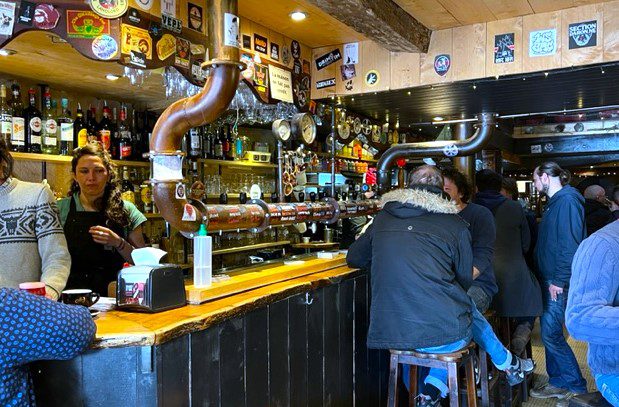 It appears that Morlaix, an interesting town to visit at any time of year, has converted one of their main squares, the Place des Otages, into a summer beach destination!  We will have to pop back sometime in the summer!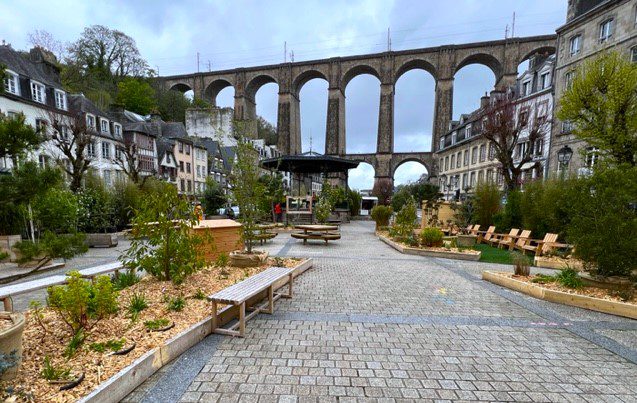 Sadly, it appears that the weather will return to a more mixed bag next week but we hope we will continue with our productivity and, hopefully, even have one major project started that we have needed to do for a while – but not by us.
More of that next Sunday.
Salut.