I know that the correct expression is 'It's beginning to look A LOT like Christmas' but I can't say that is the case here yet – but we are making progress.
In last week's blog (and amazingly I am managing to blog on 2 consecutive Sundays!) I said that we were delighted to have every gîte occupied for Christmas this year, so I needed to make it magical.  I also said that for the first time we would be decorating the exterior of the gîtes, and that has been taking up most of my time.
The week started with a trip into Brest, our nearest large town / city, to do some shopping for additional Christmas decorations.  Another advantage of having every gîte occupied is that it is an excuse for me to buy more decorations!  Last year, when we wanted to do some decoration shopping, we couldn't work out the best time for it.  At the start of October all of the shops are full of Halloween items. These give way to artificial flowers at the end of the month for Toussaint and then, at some point, the decorations arrive for what appears to be the narrowest of windows, between the end of November and start of December!
I was a little later in the shops this year and already the shelves were looking fairly empty, one shop appeared to be dismantling the decorations section, I would cynically say to stock with Easter eggs but thankfully that doesn't seem to happen here!
On Tuesday, I started with the exterior decoration.  In an earlier blog I mentioned that we had invested in a number of items for the gîtes that I would show you when we used them.  One of these items is the exterior Christmas decorations.
Previously, when we had bought some exterior lights we made the mistake of buying relatively cheaply and then being disappointed when they failed quite quickly.  This time we thought we'd do it properly so we approached the Mairie in Locronan to ask who supplied their Christmas lights.
One of the must-see things at this time of year, in this part of Finistère, are the Christmas lights of the picturesque town of Locronan.  These images are from our visit last December.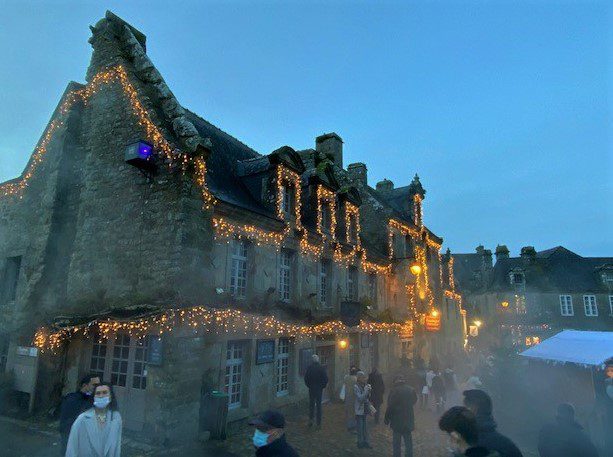 The Mairie gave us the name of their supplier and we took the plunge and ordered some lights that should last us for many years. They did however, take most of the week to put up! As this was the first time we've used them, I had to add some secure points to fix them to in places and they all came wound very tightly and secured with twist ties that I had to undo and un-twist – something I won't need to do each year!
Also, having to string them over the front gable of Priory, it made sense to give the wisteria its winter prune before. While this added a few hours to the job, the plant looks much better for it and, cutting it twice a year as I understand should be done, helps me prevent it growing under the roof slates!
Another little extra were a couple of deer that we thought would look good on the lawn too.  Especially as I was able to mow it on Wednesday before I put them up – it was amazing the grass was dry enough to mow in December but hopefully, it won't grow much now for a couple of months.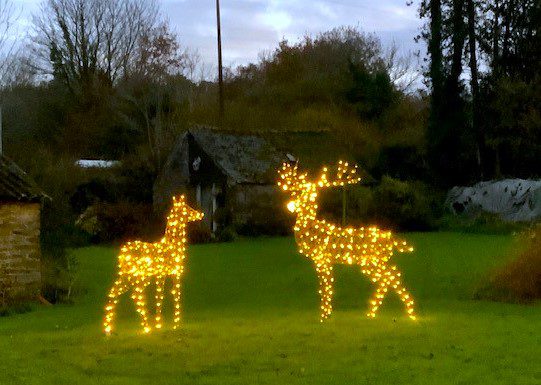 We are really pleased with the result as they look great and, being LED, use up very little power for a great result.  We have tried to capture it in photos at various stages of twilight but they never look as good as in real life.  Unfortunately what the pictures show is that I need to weed the drive! Our major transformative project for the drive, and the one I am most excited to do, hasn't yet got to the top of the list!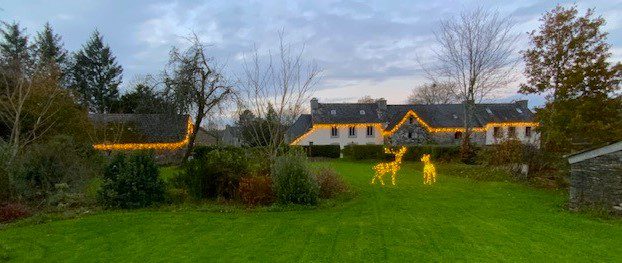 Thankfully it has been a very dry week which allowed me to complete the task.  In fact working outside was a little chilly in the mornings as the temperature here, as the UK, have plunged after a fabulously warm autumn and we are in the first cold snap of the winter.  It did allow David to get some nice pictures of the garden with the frost.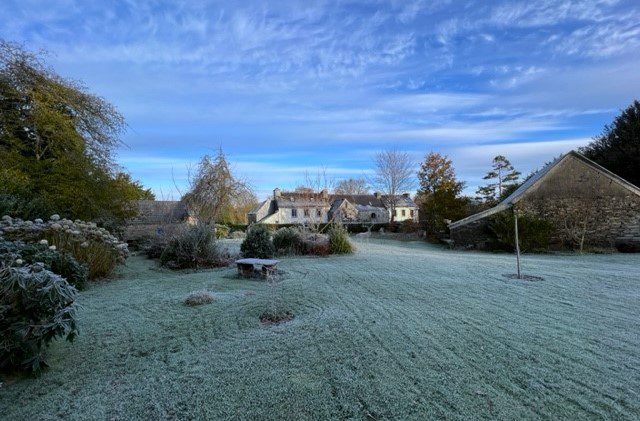 Today I have managed to make a start on some of the internal decorations and I have started with our own home.  However, they are not finished yet so I won't share any pictures until next week.
What David has worked on over the weekend has been finishing the Christmas cakes – plural!  They look amazing, as they always do, and we hope will be appreciated by our guests – we include a cake in the welcome basket for guests staying with us for Christmas.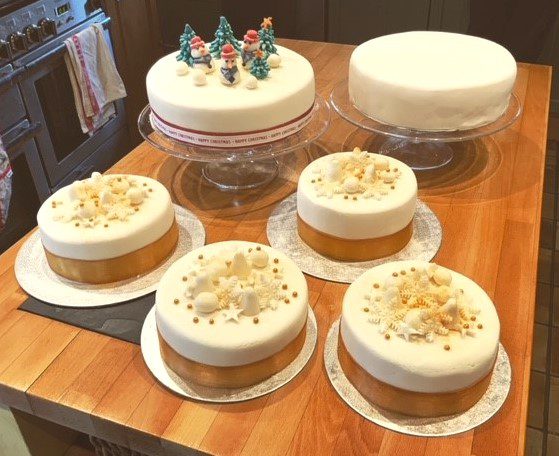 Next week will be more decoration – starting with Priory as we have guests arriving next Saturday and there is a lot to decorate! More pictures in next week's blog.
Salut.